Hackers cause grumpy gamers. "The Interview" hits theaters. And Vladimir Putin cancels Kremlin vacations.
It's Friday and here are the 5 things to know for your New Day
1. PLAYSTATION – XBOX OUTAGE
Bah, humbug: Sony's PlayStation and Microsoft's Xbox Live gaming networks were a mess on Christmas Day and beyond as a hacker group claimed responsibility for what it said was an attack. Lizard Squad says you can blame them for the outages and a couple of other attacks earlier in December that caused fits for each network. In addition, the problem might have been made worse by all those video gamers who received new systems for Christmas and wanted to try them out.
2. THE INTERVIEW
Have you seen it?: There are no box office numbers or sale figures just yet, but Seth Rogen's controversial film "The Interview" is now available online and in independent theaters. Rogen showed up at a midnight screening in Los Angeles to celebrate the movie's unlikely release. Sony Pictures pulled back on widespread distribution after its computer systems were hacked and the hackers warned Americans to stay away from theaters showing it. The comedy is about an assassination plot against North Korean leader Kim Jong-Un. It's widely believed that the cyberattack was partly related to North Korea's fury over the movie, which the country has called an "act of war" by the U.S.
3. THE POPE
Prayer for peace: Pope Francis wants to bring hope to Christians and other ethnic and religious groups suffering "brutal persecution" in Iraq and Syria. The Pope used his Christmas Day blessing to draw attention to the Syrian civil war and increased instability in Iraq with the rise of ISIS. Yesterday's blessing also included hope for peaceful resolutions of other conflicts around the world. He prayed for reconciliation in Ukraine and for peace in Nigeria, where Islamic militants are killing and kidnapping people in the northern part of the African country.
4. ISIS
Targeted: The latest ISIS-appointed governor of Mosul was killed in coalition airstrikes yesterday, according to Iraqi police. Hassan Hassan Saeed Al-Jabouri, also known as Abu Taluut, was killed 18 miles south of Mosul in the village of Qayyara. Jabouri is the second ISIS-appointed governor of Mosul killed by airstrikes and had been in office for less than 25 days. Mosul is a key stronghold for ISIS fighters and was taken from Iraqi forces earlier this year. The Pentagon said that it has a strategy to retake the city beginning in January.
5. VLADIMIR PUTIN
Putin vacations on hold: Vladimir Putin delivered a lump of coal in the Kremlin's stocking this year when he announced that he has canceled holiday vacations for members of the government. "The Government ... cannot afford such extensive holidays, at least not this year," Putin told government ministers in a speech broadcast on state television yesterday. "You know what I am talking about." And if you don't, he was talking about Russia's battered economy, which has taken a huge hit under Western sanctions and plummeting oil prices.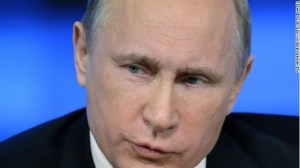 Those are your five biggies for the day. Here are a couple of others that are brewing and have the Internet buzzing.
–Christmas leftovers: Watch as Patrick Stewart of "Star Trek" and "X-Men" fame revels in his holiday elf hat. At least we think he's reveling.

- Big kids: Kenny Smith and Shaquille O'Neal got a little rambunctious on the set of the "NBA on TNT" last night.
https://vine.co/v/OHnYdWutbO9
- You'll roo the day: Apparently kangaroos aren't big fans of camera drones buzzing them.
https://www.youtube.com/watch?v=EZjFz5iN8BE
- Armed for success: Watch as a man with no arms uses fully robotic prosthetic limbs for the first time.

- Pooling around: You can always count on the guys from Dude Perfect for a good trick shot or two or three or ...

There you go. All you need to know to get an early start to your morning.
Be sure to tune in to "New Day," from 6 to 9 a.m. ET, join us at NewDayCNN.com and go and have a GREAT NEW DAY!