Demonstrations spread across the country. The Navy investigates secret shower cams. And police arrest a suspect in the killing of an American teacher.
It's Friday, and here are the 5 things to know for your New Day
1. CHOKEHOLD DEATH
Growing protests: Marchers with signs in Dallas, Boston, Chicago and Manhattan, screamed for justice. And not only for one African-American man, Eric Garner, who died after a white police officer wrested him to the ground with a chokehold. The grand jury decision not to prosecute Officer Daniel Pantaleo may have unleashed the dam burst of protests, but the anger of a multitude marching through in the dark has encompassed more than Garner's death in Staten Island. It has energized those who believe police treat black lives like they don't matter.
2. SUB SHOWER CAMS
Underwater, undercover: It was certainly creepy, an invasion of privacy and possibly criminal. U.S. Navy investigators are looking into who secretly filmed female officers aboard the USS Wyoming while they were showering and changing clothes in the submarine's unisex bathrooms. An incident report filed with the Navy last month alleges at least three female officers were videotaped at various times over a year long period. The recordings might then have been distributed to some members of the crew. The Navy wouldn't elaborate on the specifics of the case since the investigation is ongoing.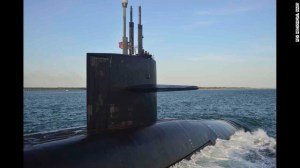 3. UAE MALL KILLING ARREST
Being questioned: An arrest has been made in the fatal stabbing of a U.S. teacher in a bathroom at a mall in United Arab Emirates. The woman is only identified as a 30-something UAE national, according to police. The woman was arrested less than 24 hours after the attack. She is being interrogated by Emirati authorities and the investigation into the incident is ongoing, a diplomatic source told CNN. Police said a veiled woman stabbed 47-year-old American schoolteacher Ibolya Ryan during a fight in a restroom at the high-end Boutik Mall on Monday. Police believe Ryan did not know her attacker.
4. SONY HACK FALLOUT
Sony-pocalypse: The more details that come out on the Sony Pictures computer hack, the worse the news gets. Sony is dealing with more than downed computers and frozen email. Movies have been leaked, and internal documents have exposed private company memos, along with employees' salaries, Social Security numbers and health information. It's ugly folks. It's so devastating that the FBI is now warning other companies about the malicious software that infected Sony's computers. And this hack could prove extremely costly to Sony. The leaked movies have been downloaded millions of times already. That's lost ticket, DVD and movie rental sales. You do the math. Ouch!
5. NATIONAL CHRISTMAS TREE LIGHTING
O Tannenbaum: Tom Hanks and company fired up the National Christmas tree last night. And by "and company," we mean President Obama, the first family and a bunch of other celebs. This year's lighting marks the 92nd year of the tradition, which was started under President Calvin Coolidge.
Those are your five biggies for the day. Here are a couple of others that are brewing and have the Internet buzzing.
–Fetching failures: Hang your doggy heads in shame.

- Mega mashup: Haven't been paying attention to the hits of 2014? Check this out from DJ Earworm.

- #HeIsBack: Here's the official trailer for the new Terminator film - Terminator: Genisys. It hits theaters July 1.

- This is Target: Here's a holdover from Black Friday. We think you'll like it.

- Happy Christmas: How to Have a British Christmas.

There you go. All you need to know to get an early start to your morning.
Be sure to tune in to "New Day," from 6 to 9 a.m. ET, join us at NewDayCNN.com and go and have a GREAT NEW DAY!