Protesters fill the streets of New York City. Michael Brown's stepfather apologizes for his emotional outburst. And 2014 could be the hottest year on record.
It's Wednesday and here are the 5 things to know for your New Day
1. CHOKEHOLD DEATH
Looking for justice: Protesters poured onto the streets of New York last night, upset over a grand jury's decision not to indict a police officer in the death of Eric Garner. Garner, an unarmed black man, died in July after a white officer, Daniel Pantaleo, put him in a chokehold. Garner's death was later ruled a homicide. There were demonstrations in other cities too, including Washington, D.C., Philadelphia and Oakland, California. "Ferguson is Everywhere," one demonstrator's sign read, referring to the Michael Brown shooting in Ferguson, Missouri. But unlike Ferguson, there were no reports of rioting or violence.
2. FERGUSON
An apology: Michael Brown's stepfather says he's sorry for his emotional outburst after learning Officer Darren Wilson wouldn't be indicted in the teen's death. But he says he's unfairly taking heat for the rioting that followed. Louis Head said yesterday that "emotions got the best of me" on November 24 in Ferguson, Missouri, when he yelled "Burn this motherf***er down!" and "Burn this bitch down!" Despite Ferguson Police Chief Tom Jackson's assertion that police are investigating whether Head intended to incite a riot with his words, law enforcement sources told CNN that Head is unlikely to be prosecuted.
3. MALL KILLING
Suspect wanted: An American woman is dead after being stabbed by an unknown attacker in a restroom at a high-end mall in Abu Dhabi, the capital of the United Arab Emirates. Ibolya Ryan was stabbed with a sharp tool after a fight broke out in the lavatory, according to Abu Dhabi Police. The cause of the fight remains unknown; the suspect fled the scene immediately after committing the crime, police said. Violent crime is rare in the UAE.
4. HOTTEST YEAR
Does it feel hot to you?: This year is on track to be one of the hottest, if not the hottest, year on record, a U.N. agency reports. If the rest of 2014 plays out as expected, this year will be the hottest on record, ahead of 2010, 2005 and 1998, according to the World Meteorological Organization. "The provisional information for 2014 means that 14 of the 15 warmest years on record have all occurred in the 21st century," said the group's Secretary-General Michel Jarraud. "There is no standstill in global warming."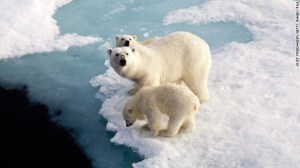 5. CHEAP GAS
Fill 'er up: Want cheap gas? Really, really cheap gas? Check out the OnCue gas station on 44th and Shields in Oklahoma City. Regular gas was selling for just under $2 there yesterday. Oklahoma is the epicenter of cheap gasoline right now, with its combination of low wholesale prices and low state gas taxes. Several other stations in Oklahoma City are charging less than $2.10 a gallon already. The average price of gas in the U.S. is $2.74, according to GasBuddy.com.
Those are your five biggies for the day. Here are a couple of others that are brewing and have the Internet buzzing.
- Sleeping on the couch: It's probably not smart to prank your wife by pretending to accidentally throw your kid over an upstairs railing.

–Rock and Roll Heaven: We've lost another classic rock artist. Faces keyboardist Ian McLagan died yesterday. He was 69.

- Something to think about: Why Do We Like Our Own Farts?

- What not to do: A man drove his car along a sidewalk on the Golden Gate Bridge, until he ran into some trouble.

- Catnip: It's like weed for cats.

There you go. All you need to know to get an early start to your morning.
Be sure to tune in to "New Day," from 6 to 9 a.m. ET, join us at NewDayCNN.com and go and have a GREAT NEW DAY!