The White House looks at its Syria policy. Profits at SeaWorld flounder. And Colorado pot sales stall.
It's Thursday and here are the 5 things to know for your New Day
1. OBAMA SYRIA POLICY
Changes possible: The Obama administration appears to be rethinking its Syria policy and how it's targeting ISIS, senior U.S. officials and diplomats are telling CNN. The review is a tacit admission that the initial strategy of trying to confront ISIS first in Iraq and then take on the group's fighters in Syria, without also focusing on the removal of Syrian President Bashar al-Assad, was a miscalculation. In just the past week, the White House has convened four meetings of the President's national security team. "The President has asked us to look again at how this fits together," one senior official said. Deputy National Security Adviser Ben Rhodes denies any formal review is underway.
2. COMET LANDING
Heavenly results: Did you see what scientists did yesterday? They landed a space probe on a comet about 310 million miles from Earth. Pretty impressive stuff. It's never been done before. At least not by earthlings. The mission took off from Earth 10 years ago and traveled 6.4 billion miles before arriving in early August at the comet. The space probe will conduct nine different types of experiments on the comet's surface and send back data to the European Space Agency.
3. SEAWORLD STOCK
Floundering: Another wave of bad news for SeaWorld. Attendance is down and so are stock prices. The company said profits could fall as much as 16% for the year. "Clearly 2014 has failed to meet our expectations," said CEO Jim Atchison. SeaWorld said in its earnings release that "negative media coverage" was still weighing on business. Blackfish, a documentary promoted by and aired on CNN last year raised criticisms of SeaWorld's allegedly cruel animal treatment.
4. KANSAS QUAKE
The earth moved: Yes, that was a 4.8 magnitude earthquake that shook the central Plains yesterday. Not the sort of thing you'd normally expect in the nation's heartland. The epicenter was near the Kansas-Oklahoma border, about 33 miles southwest of Wichita. Folks felt it in neighboring states too, with one report coming in from Irving, Texas, in the Dallas-Fort Worth area, the U.S. Geological Survey said. No injuries or heavy damage were reported.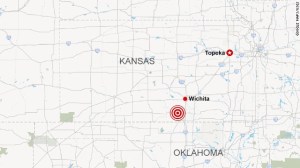 5. COLORADO POT SALES
Up in smoke: It appears that Colorado's booming pot industry has hit a bit of a bump. Sales of marijuana for recreational and medical use fell in September for the first time since Colorado legalized it in January, according to the latest data. Colorado brought in $7.2 million in taxes and fees from recreational and medical marijuana sales in September. That's down from $7.7 million in August. The dip is somewhat surprising considering that sales had been rising steadily since Colorado became the first state to permit the sale of recreational marijuana to anyone age 21 or older. Industry insiders say sales will pick up again as tourists hit the slopes this winter.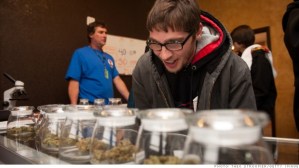 Those are your five biggies for the day. Here are a couple of others that are brewing and have the Internet buzzing.
- Sound familiar: Things IT people never say

- Kitten therapy: The feline way to ease stress.

- Holiday cheer: Bring a few tissues to watch this ad that recreates a Christmas miracle from World War I.

- Footloose ninja: Kevin Bacon would be proud of Jake Murray's video to get on American Ninja Warrior.

–Reflex reaction: Maybe a cat psychologist can explain this.

There you go. All you need to know to get an early start to your morning.
Be sure to tune in to "New Day," from 6 to 9 a.m. ET, join us at NewDayCNN.com and go and have a GREAT NEW DAY!