South Korean ferry captain gets 36 years. Bitter cold and snow blast the Midwest. And a Veterans Day concert will rock the National Mall.
It's Tuesday and here are the 5 things to know for your New Day
1. FERRY CAPTAIN'S FATE
Verdict delivered: Lee Joon-seok, the South Korean ferry captain who jumped to safety while the hundreds of people remained inside the sinking ship, was sentenced today to 36 years in jail. Prosecutors had sought the death penalty for Lee, alleging that he did not use the available equipment such as life rafts, life vests and announcements to evacuate the passengers. More than 300 people died after the ferry capsized on the southwestern coast of South Korea in April. Almost 250 of them were suburban high school students on their way to a field trip. Nine people remain missing.
2. COLD SNAP
Who ordered this?: Sure, it's November, but this is still a little crazy. More than a foot of snow fell across the northern Plains yesterday. St. Augusta, Minnesota, about 70 miles northwest of Minneapolis, reported a whopping 16.5 inches of snow, according to the National Weather Service. The storm system is ushering in a bunch of cold air that will make its way into the Deep South this week. Birmingham, Alabama, and Atlanta will see highs in the 40s on Friday. Things will warm up over the weekend, but the nation will get another cold blast next week.
3. JOAN RIVERS DEATH
Errors in treatment: The Manhattan clinic that treated comedian Joan Rivers before her death made a number of serious mistakes, according to a report released yesterday. The report by the Centers for Medicare & Medicaid Services said the clinic failed to notice her deteriorating vital signs and provide timely intervention, failed to properly record information about the dosing and administration of the sedative she was given and failed to get Rivers' informed consent for each procedure performed. The famed 81-year-old entertainer died September 4, a week after an appointment at Manhattan's Yorkville Endoscopy clinic.
4. MICHAEL BROWN INDICTMENT
Waiting for the word: There's a nervous sort of tension in Ferguson, Missouri, these days. All of Ferguson and much of the nation waits to see whether a grand jury will indict Officer Darren Wilson for the shooting. Though the grand jury has until January to issue its ruling, the prosecutor's office has said a decision could come in mid-November. In this normally quiet town of 21,200, the majority of people - those who support Wilson and those who think he should be arrested - do not believe he will be indicted. Though the daily protests have been mostly peaceful since the shooting, few doubt that some level of violence will follow if there is no indictment. Gun sales are up. So are visits to the shooting range.
5. VETERANS DAY
We salute you: It's Veterans Day - the day we honor those have served in the nation in the military. Vice President Joe Biden will lay a wreath at the Tomb of the Unknown Soldier later on this morning. Across the nation, local communities will also honor their heroes. There's a big show planned tonight on the National Mall in Washington. "The Concert for Valor" features Bruce Springsteen, Carrie Underwood, Jessie J, Eminem, the Zac Brown Band and a few others. The show is free if you want to brave the crowds and are in the DC area. You can also catch it live on HBO.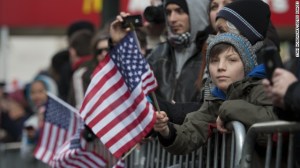 Those are your five biggies for the day. Here are a couple of others that are brewing and have the Internet buzzing.
–Cute and creepy: This is what you get when you cross a teddy bear with shih tzu.

- Cute and creepy II: This is a baby pangolin from the Taipei Zoo. It kind of looks like the love child of an anteater and an armadillo.

- Signs of our time: Meet Anecleto "Clet" Abraham, an Italian street artist who has been subtly altering hundreds of street signs across Europe. Last month, he came to Manhattan.

- Treat time: Argus the dog wants his tater tot and is determined to get it.

- Space time: Take a gander at the light show astronauts at the International Space Station get to see everyday.
There you go. All you need to know to get an early start to your morning.
Be sure to tune in to "New Day," from 6 to 9 a.m. ET, join us at NewDayCNN.com and go and have a GREAT NEW DAY!