The President writes a letter to Iran. A federal court upholds same-sex marriage bans in four states. And a murder-for-hire charge is dropped against AC/DC's drummer.
It's Friday, and here are the "5 things to know for your New Day."
1. OBAMA, IRAN AND ISIS
Dear ayatollah: This news surprised a lot of folks. The Obama administration is trying to open channels of communication with Iran over the war on ISIS. Obama sent a letter to Supreme Leader Ayatollah Ali Khamenei last month pointing out the countries' shared interest in beating the terrorist group. A senior U.S. official and a Western diplomat tell CNN that it's not so much that the U.S. and Iranian militaries are cooperating with each other, they're just communicating so they stay out of each other's way, since they're operating in the same areas. The Iraqis are serving as intermediaries since Washington and Iran don't have diplomatic relations.
2. SAME-SEX MARRIAGE RULING
Appealing case: A federal appeals court yesterday allowed four states to prohibit same-sex unions - a decision that could force the U.S. Supreme Court to take up the issue. In a 2-1 ruling, the U.S. Court of Appeals for the Sixth Circuit reversed lower court rulings in Ohio, Michigan, Tennessee and Kentucky that struck down same-sex marriage bans. In October, the Supreme Court announced it would not hear appeals to same-sex marriage cases filed by a handful of states, effectively paving the way for same-sex unions to become legal in Indiana, Oklahoma, Utah, Virginia and Wisconsin. A handful of states later followed suit. The high court's decision left the door open for future challenges. The American Civil Liberties Union says it will appeal the decision to the high court.
3. PHILADELPHIA ABDUCTION
Not his first one? A month before Delvin Barnes grabbed a woman off the streets of Philadelphia, he hit a teen with a shovel in Virginia and stuffed her into a car trunk, authorities say.  Barnes, 37, was arrested Wednesday after police tracked him down, using his car's GPS device. It followed his alleged kidnapping of a nurse in Philadelphia.
4. BIN LADEN SHOOTER
Taking credit: Former U.S. Navy SEAL Robert O'Neill said in an interview with The Washington Post that he was the one who fired the final shot to kill Osama bin Laden in 2011. The 38-year-old Montanan also said that other SEAL team members were involved in the raid. O'Neill's move to go public is a controversial one because it violates an unspoken military rule: Don't seek attention for your service.
5. AC/DC DRUMMER
Prosecutors pull back: A murder-for-hire charge against AC/DC drummer Phil Rudd by New Zealand police has been dropped, his lawyer said. Rudd had been accused of trying to have two men killed. But the Crown Solicitor decided there wasn't enough evidence to justify it, according to attorney Paul Mabey. Rudd still faces other charges. "Mr. Rudd will defend the charge of threatening to kill. Charges relating to personal possession of drugs are minor," Mabey said. The band's latest album, "Rock or Bust," is scheduled to come out on December 2.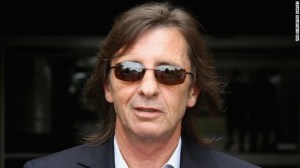 Those are your five biggies for the day. Here are a few others that are brewing and have the Internet buzzing.
- Too much to swallow: CNN's Jeanne Moos tackles The Discovery Channel's "Eaten Alive" special.

- Dangerous pumpkins: Thank goodness there's a puppy to protect us.

- Super sneaky: Extra points for creativity for this onside kick.

- DIY #fail: Some advice: Don't use your Sodastream machine to make sparkling wine.

- Feel-good video: This special young hockey fan loves to fist bump.
https://www.youtube.com/watch?v=IJ5uaesvr7I&feature=youtu.be
There you go. All you need to know to get an early start to your morning.
Be sure to tune in to "New Day," from 6 to 9 a.m. ET, join us at NewDayCNN.com and go and have a GREAT NEW DAY!