In today's edition of the "Good Stuff," we're honoring three "New Day" babies that were born this past week!
Our senior producer Paulina Gigante and her husband Rich had a little girl on Friday.
Dominika "Nika" Luciana Gigante was born at 10:07 am. She is 7 lb and 13 oz.
Baby and mommy are doing great.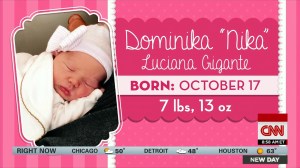 AND... "New Day" senior producer John Griffin has twins!
Jack and Bobby, named after their grandfathers, couldn't be stopped.
Jack was 6lbs, 12oz and born at 8:48am; Bobby was born at 8:49am, and was 6lbs, 5oz.  They're early, so they'll be in the NICU for a couple of days, but they're both very strong and breathing on their own.  And mom is doing just fine.