Frontier warns passengers who traveled on the same plane as a woman who got Ebola. Hong Kong police clear pro-democracy protesters. And Apple unveils its new iPads.
It's Friday, and here are the "5 things to know for your New Day."
1. EBOLA
Spreading the word: Authorities are expanding their efforts to reach out to passengers aboard two flights taken by a nurse infected with Ebola, and five subsequent trips made by the plane used in her return flight. Amber Vinson was hospitalized Tuesday, a day after she took Frontier Airlines Flight 1143 from Cleveland to Dallas. The airline says it's reached out to 800 people who were on those flights.
2. ISIS
Fighting back: U.S. airstrikes in Kobani are helping Kurdish fighters turn the tide on ISIS militants in the Syrian town, sources there say. One Kurdish fighter told CNN that ISIS has been forced from many parts of the city but still controls some key buildings, including the hospital and a building that served as headquarters for the Kurdish People's Protection Units. Kurdish forces have control of the southwest entrance of the city and have taken some buildings back from ISIS.
3. HONG KONG
Clearing the streets: Hong Kong police moved at dawn today to clear a major intersection occupied by pro-democracy protesters for almost three weeks, tearing down tents and dismantling barricades. Around 500 to 600 police carrying wire cutters and riot shields stormed the site in the city's busy Mong Kok district, catching the 200 or so protesters at the site off guard. A CNN team at the scene said most protesters did not put up any resistance.
4. JOAN RIVERS
The official word: The New York medical examiner has released Joan Rivers' official cause of death. The comedian died of "therapeutic complications" during a procedure to evaluate "voice changes" and stomach reflux, the report said. Those complications included a spasm of the vocal cords that made it hard for Rivers to breathe, then she went into cardiac arrest. Ultimately, it was brain damage due to lack of oxygen that killed her. Rivers, 81, died on September 4, a week after an appointment at Manhattan's Yorkville Endoscopy clinic.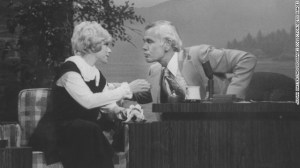 Rivers on the "Tonight Show" with Johnny Carson in 1965.
5. NEW iPADS
Apple unveils new iPads: Apple's new fab tabs got a facelift. The iPad Air 2 and iPad Mini both come with TouchID fingerprint sensors, which used to be available only on the iPhone. The Air 2 is just 6.1 millimeters thick, 18% smaller than the previous iPad Air. It's also got a souped-up processor, improved Retina display and a camera that takes panoramic photos of up to 43 megapixels. Both of the new iPads will be available for preorder Friday and will ship by the end of next week.
Those are your five biggies for the day. Here are a few others that are brewing and have the Internet buzzing.
- That's the way the ball bounces: Watch as a basketball flies through the scenes of 87 movies, including "Superman," "Star Wars" and "The Big Lebowski."
- Adorable content warning: Run for the hills as a ferocious baby arctic fox nibbles on someone's toes.

- Fallon vs. Pitt: We think there's plenty of creative editing in this break dance showdown between Brad Pitt and Jimmy Fallon, but it's still fun to watch.

- What's that sound? Skip a rock across a frozen lake, and this is what you get.

- Biker bulldog: Sweets waves to her friends as she tours the countryside.

There you go. All you need to know to get an early start to your morning.
Be sure to tune in to "New Day," from 6 to 9 a.m. ET, join us at NewDayCNN.com and go and have a GREAT NEW DAY!