Malala Yousafzai and Kailash Satyarthi share the Nobel Peace Prize. Never joke about Ebola on an airplane. And North Korean leader Kim Jong Un is a no show for a key national holiday.
It's Friday and here are the 5 things to know for your New Day
1. NOBEL PEACE PRIZE
And the winners are ... : The Nobel Peace Prize was awarded Friday to India's Kailash Satyarthi and Pakistan's Malala Yousafzai for their push for children's right to education. Two years ago, an Islamist militant shot her in the head. It looked like she would die, but she lived to inspire others and become the youngest Nobel Peace Prize winner. The Norwegian Nobel Committee received a record 278 nominations for the 2014 prize. Each prize carries a monetary reward of 8 million Swedish kronor (about $1.1 million) to be divided among the winners.
2. EBOLA
Not funny: Ebola is no laughing matter, especially not at airports or on planes, where screenings have gotten tighter. So when a man on a flight Wednesday may have joked that he had been to Africa and had the deadly disease, he received a special escort off the plane. Four officials in blue plastic hazmat suits boarded U.S. Airways Flight 845 to retrieve him after it landed in Punta Cana in the Dominican Republic. "I was just kidding," he could be heard saying as his new special friends took him away.
3. FERGUSON WEEKEND PROTESTS
Calling for change: This is a "Weekend of Resistance" in the St. Louis area as supporters of slain black teenager Michael Brown begin four days of marches and civil disobedience today in Ferguson. The protests will start with a rally outside the office of the prosecutor investigating the Brown shooting. They will call for Bob McCulloch to step aside and allow a special prosecutor to be appointed. Additional marches and demonstrations will mark the weekend, along with "civil disobedience actions around the St. Louis region," according to a statement from organizers that also says thousands of people from across the country are expected to attend.
4. KIM JONG UN
Still MIA: The mystery surrounding the whereabouts of Kim Jong Un deepened Friday after the North Korean leader appeared to have missed an important national anniversary. Kim's name was absent from the list of attendees at the 69th anniversary of the Workers' Party of North Korea, a ceremony that pays tribute to his late father and grandfather. Kim hasn't been seen in public since he reportedly attended a concert with his wife on September 3. It's his longest absence from official events since he made his first public appearance in 2010, NK News said. Analysts are puzzled and speculation is running rampant about why Kim has been out of the public eye.
5. JAN HOOKS
Some of the laughter is gone: Actress and comedian Jan Hooks died in New York yesterday. She was 57. You laughed with her on "Saturday Night Live" from 1986 to 1991 when she was a cast member, trading lines with Dana Carvey, Phil Hartman and Mike Myers. After leaving SNL, Hooks played Carlene Dobber for two seasons on "Designing Women," replacing Jean Smart. She also appeared on "3rd Rock from the Sun" and "30 Rock."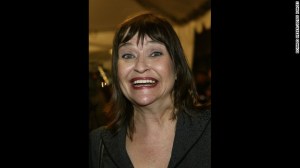 Those are your five biggies for the day. Here are a couple of others that are brewing and have the Internet buzzing.
–Where will it end?: These video pregnancy announcements are starting to get out of hand.

- Hummingbird buddy: How many of you have hummingbird friends? This guy in Brazil does.

- A neigh-borly visit: This four-footed friend recently visited the Cheshire Police headquarters in rural England.

- Let's get this party started: For some reason, this guy is on a mission to get everyone to dance on a train car in Australia.

- Lemur snack time: Koko loves his seaweed.

There you go. All you need to know to get an early start to your morning.
Be sure to tune in to "New Day," from 6 to 9 a.m. ET, join us at NewDayCNN.com and go and have a GREAT NEW DAY!</i