The U.S. ups the ante against ISIS. "Breaking Bad" wins best drama at the Emmys. And a newly released audio recording may provide new clues in the Michael Brown shooting.
It's Tuesday, and here are the "5 things to know for your New Day."
1. SYRIA AND ISIS
Syria ready to cooperate: The United States could open up a new front against ISIS. President Barack Obama has authorized reconnaissance flights over Syria, a U.S. official told CNN. This comes as ISIS fighters seized control of a strategically important air base in the country. The Syrian regime says it's ready to accept support from the United States and others working under the U.N. umbrella to fight "terrorists." Senior U.S. defense officials said last week that they hadn't ruled out extending airstrikes against ISIS into Syria. Airstrikes against the Islamist extremist group in Iraq have reversed some of its gains there.
2. EMMYS
Highlights: "Breaking Bad" wins best drama; its stars also win awards. "Modern Family" wins best comedy series. Jim Parsons of "The Big Bang Theory" wins an Emmy for the fourth time. "American Horror Story" and "Sherlock" take home multiple awards. And Billy Crystal gives a heartfelt tribute to friend Robin Williams.
3. FERGUSON TEEN SHOOTING
Something new: Could a newly released audio recording give more clues about what led up to Michael Brown's shooting death? The FBI has questioned a man who says he recorded audio of gunfire at the time Brown was shot by Ferguson police on August 9, the man's attorney told CNN. In the recording, a quick series of shots can be heard, followed by a pause and then another quick succession of shots. CNN cannot independently verify the authenticity of the tape and has asked the FBI for confirmation of its interview with the man who made the recording.
Join Chris Cuomo with your questions for a Facebook chat about the case at 11 a.m. ET.
4. BRAZIL PRISON RIOT
Deadly violence: A prison riot in the southern Brazilian city of Cascavel got out of hand in a big way as inmates beheaded two fellow prisoners and threw two more off the roof of a cellblock. The riot erupted over the weekend when prisoners overpowered guards, authorities said. Authorities say hundreds of prisoners are demanding better living conditions and more flexible visiting hours. The prison housed just over 1,000 inmates.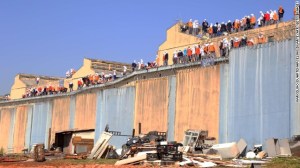 5. FACEBOOK CLICK-BAIT
Look familiar? "You won't believe what happens in this video!" Or "This story will blow your mind." We see these sorts of headlines all the time on Facebook. They are known as click-bait. The social media giant is changing its all-important algorithms to discourage them. Why? Because they seem to promise a lot, but don't deliver much. Folks on Facebook prefer headlines that tell them what to expect, not a cheap tease, the company says. And Facebook wants to keep its customers happy.
Those are your five biggies for the day. Here are a few others that are brewing and have the Internet buzzing.
- Feeling sheepish: This BMX ride could have ended very baaaaaadly.

- Like riding on air: The best dad EVER invents a hoverboard for his sons.

- Feathered friend: Spike the cockatoo feeds doggy biscuits to his Great Dane buddies.

- Droning on: This quadcopter video gives a bird's-eye view of earthquake damage in Napa, California.

- Kisses: These English bulldog pups might be smooching. In any case, they're super cute.
There you go. All you need to know to get an early start to your morning.
Be sure to tune in to "New Day," from 6 to 9 a.m. ET, join us at NewDayCNN.com and go and have a GREAT NEW DAY!