In light of the recent events in Ferguson, Missouri, Ozy founder Carlos Watson walks us through his list of today's civil rights leaders who are fighting for social justice through their work.
Across the country and through various jobs, Watson emphasizes all of these people share three common qualities:
1) They care, often in a deeply personal way
2) They've had experience with not being the conventional choice for their positions
3) They've had mentors and supporters along the way
From a sheriff in Dallas County to a Harvard economics professor, learn more about Watson's chosen few:
KAMALA HARRIS,  CALIFORNIA ATTORNEY GENERAL
Harris is the first woman, the first African-American, and the first South Asian to hold the office of attorney general in the history of California.
Watson notes she's been very active on police brutally issues and is not afraid to take on big banks and the mortgage industries.
See Harris talk to Candy Crowley about childhood, her love of art and her greatest accomplishment
LUPE VALDEZ, DALLAS COUNTY SHERIFF
Sheriff Valdez is currently serving her third term in Dallas County.
According to the county website, she is the only Hispanic female sheriff in the United States and only one of four female sheriffs in Texas.
Watson refers to her as the "single most impressive person I've met in the last 20 years ... including a couple of presidents."
Valdez grew up as one of eight children of migrant farm workers and she went on to become a senior leader in the DEA.
Watson says "she defines beating the odds."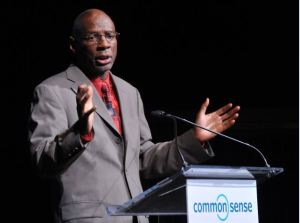 GEOFFREY CANADA,  ADVOCATE FOR EDUCATION REFORM
If you've seen the movie "Waiting for Superman," you may already be familiar with Canada's work.
As a native of the Bronx, Canada is a passionate education reformer who's worked with the Harlem Children's Zone for more than 30 years.
Watson says his message is not solely about improvement in the field of education.
Canada has worked tirelessly for overall community empowerment – fighting for job opportunities, safety and infrastructure building in Harlem.
See Canada talk about the education crisis in America and the need for innovation
ROLAND FRYER, ECONOMICS PROFESSOR
According to his biography, at thirty, Fryer became the youngest African-American to receive tenure from Harvard.
In 2011, he was awarded a MacArthur "Genius Grant" and he uses economics theories to improve schools for the poorest children.
Watson says Fryer has implemented aggressive policies like more tutoring and longer school days as he's taken control of a number of schools in Houston and Denver to show results.
WATCH VIDEO TO LEARN MORE: