Extreme rainfall has plagued parts of the country this week from Detroit to Baltimore to New York state.
On Monday, Detroit, MI, received 4.57" rainfall in one day, the second highest daily rainfall measured in the city.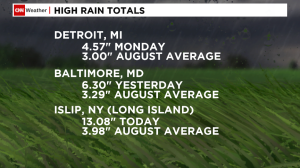 Yesterday, the flooding rain shifted to the Mid-Atlantic and Northeast.
Baltimore, MD, got 6.30" rainfall on Tuesday.
Just this morning, flash flooding stranded cars and forced water rescues on Long Island.
Islip, NY, measured over a foot of rain in less than 8 hours from the torrential downpour.
More rain is expected across New England before drier weather prevails on Thursday.