Some veteran Congressmen made it through yesterday's primaries, in Iraq both sides claim control of this or that town, and a biting incident mars a World Cup victory.
Welcome to the Wednesday edition of "5 Things to Know for Your New Day."
1. IRAQ CRISIS
The road to Baghdad: The seesaw claims and counterclaims of who controls what across Iraq fluctuate by the day. But on the outskirts of Baghdad, the eerie sparseness of a major highway raises questions about whether the capital would be prepared for a militant invasion. The Iraqi military insists it's ready to beat back members of Islamic State in Iraq and Syria if they reach Baghdad.
2. PRIMARY ELECTIONS
You keep me hangin' on: The "Lion of Harlem" is still a contender. Charlie Rangel, a 44-year House of Representatives vet, appears to have won his Democratic primary bid yesterday – and that's a small wonder given Obama and New York Mayor de Blasio wouldn't endorse him. Down in Mississippi, African-American Democrats handily voted Republican to save incumbent Sen. Thad Cochran – a six-termer – from a Tea Party challenger. In five more states, voters cast their ballots for party favorites.
3. WORLD CUP SUAREZ
Boys, no biting!: Some guys just won't behave, and Luis Suarez might be one of them. The footballer from Uruguay was disciplined twice before for biting opposing players, and yesterday, at the World Cup it looks like he did it again. After he and Italian defender Giorgio Chiellini had a run-in, Chiellini pulled down his jersey and carped that Suarez had bitten him. Suarez said his teeth just collided with the shoulder. FIFA might not buy that and is thinking of punishing him. Oh, Uruguay won 1-0.
4. BOEHNER VS. OBAMA
I'll sue. I think. Presidents like to use executive orders to get things done, especially when partisan politics throw up roadblocks. Obama is no exception. But that has irked conservative Republicans, who have pushed House Speaker John Boehner to sue Obama for misuse of power. Boehner said yesterday he is thinking about doing that. It didn't stop him from having a cheery game of golf yesterday with the President. (Wonder if midterm elections have anything to do with the threat.)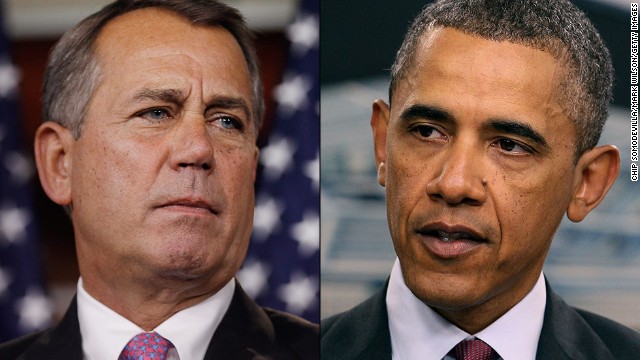 5. KFC SCARRED GIRL
A fairy tale? Remember that poor little girl, who was supposedly turned away by a KFC restaurant in Mississippi because her face was injured by an attack dog? The 3-year-old got a lot of attention on social media, including donations on GoFundMe. KFC even apologized and donated $30,000 for Victoria's treatment. Well, that story may have been a hoax. That's what a local newspaper reported – citing unnamed sources. CNN is trying to reach the family for comment.
There you go. All you need to know to get an early start to your morning. Be sure to tune in to "New Day" from 6 to 9 a.m. ET, join us at CNN.com/NewDay and go and have a GREAT NEW DAY!