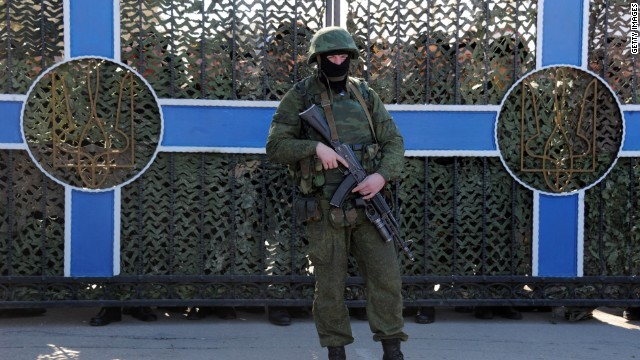 Heads of states in Europe plan to discuss the crisis in Ukraine today. The interim government in Libya says it has custody of one of Moammar Gadhafi's sons. Changes are in store for the SAT. The high court in Massachusetts says it's legal to take secret photos of other people's underclothes. And passing motorists in Florida rescue children after a woman drives a minivan into the water.
Welcome to the Thursday edition of "5 Things to Know for Your New Day."
1. UKRAINE
Diplomacy in high gear: It's another day of high-stakes diplomacy in a confrontation reminiscent of the Cold War. The question of the day: How to resolve the controversy over Russia's decision to send troops into the Crimea region of eastern Ukraine, home to many ethnic Russians. Look for news of more consultations and conversations between U.S. Secretary of State John Kerry and his counterparts; Kerry met Wednesday with foreign ministers of Russia, Ukraine, Germany and France. Meanwhile, heads of state in Europe are to discuss the crisis Thursday. Arseniy Yatsenyuk, interim prime minister of the fledging Ukrainian government, plans to attend the meeting and brief reporters along with the president of the European Parliament and the top man in NATO, Secretary General Anders Fogh Rasmussen.
[youtube=""]
2. GADHAFI'S SON IN CUSTODY
He had fled to Niger: The interim government in Libya says it has custody of one of the sons of former dictator Moammar Gadhafi, who was killed in October 2011 after an uprising forced him from power. Saadi Gadhafi once had been a businessman who ran the Libyan Football Federation. He also played soccer in Perugia, Italy, for a season. After an uprising began against Gadhafi's rule, Saadi Gadhafi had offered to negotiate with rebels after his father's troops lost control of Tripoli, the Libyan capital. He apparently later changed his mind and fled to neighboring Niger. The interim government in Libya thanked Niger's president for his help when it announced that Saadi Gadhafi was in Libyan custody.
From the archives: CNN's Nic Robertson interviewed Saadi Gadhafi a few years ago.

[youtube=""]
3. SECRET 'UPSKIRT' PHOTOS LEGAL
It's legal in Massachusetts to secretly photograph a person's undergarments – without them knowing: The high court in Massachusetts ruled that women who were secretly photographed while riding public transportation in Boston were not nude or partially nude – and that furtive photos that may have shown their undergarments are therefore legal. That prompted a prosecutor to urge legislators to change the law. CNN legal analyst Sunny Hostin said she thinks the judges erred. And the verdict was swift and negative in the court of public opinion, at least as judged by an unscientific sampling of posts on Twitter that mention the word "upskirting."

[youtube=""]
4. SAT CHANGES ON THE WAY
New test comes out in the spring of 2016: The SAT college exam will undergo sweeping changes on what's tested, how it's scored and how students can prepare, the College Board's president said Wednesday. The new test comes out in the spring of 2016. It will include three sections - evidence-based reading and writing, math and an optional essay. The College Board outlined 8 key changes, including to the essay and math parts of the test. The SAT also will shift from a scoring scale of 2400 back to 1600. One goal of the changes: Get students to do more than make clever guesses about which answers to eliminate in a multiple-choice format. "We are not interested in students just picking an answer, but justifying their answers," College Board President and CEO David Coleman said.
[youtube=""]
5. CHILDREN RESCUED FROM VAN IN OCEAN
The mother, who was driving, is to undergo a mental evaluation:A woman in Daytona Beach drove a mini-van carrying several children into the surf. Some of the children screamed for help. Passing motorists stopped to help. "Please help us, our mom is trying to kill us," one of the children said, motorist Tim Tesseneer told CNN's Piers Morgan. He and another motorists managed to free two children, ages 9 and 10. A lifeguard dove into the minivan and unbuckled a 3-year-old from a car seat. Now the mother awaits a mental health evaluation.
[youtube=""]
Those are your five biggies for the day. Here are a couple of others that are brewing and have the Internet buzzing.
–Almost made it that time!:The dog keeps jumping and jumping and jumping - for something just beyond reach. Who can't relate to that?

–How to make an impression in that important meeting at the office:Hint: It may have to do with where you sit.

–Aboard the Laundry Basket Snow Express: Have three children who want to play in the snow? Don't have a sled? Grab some laundry baskets and rope and – boom! – you're in business.

There you go. All you need to know to get an early start to your morning.
Be sure to tune in to "New Day," from 6 to 9 a.m. ET, join us at NewDayCNN.com and go and have a GREAT NEW DAY!