A deep freeze sends the South shuddering. Obama faces a big test. A folk icon passes away. And Mexico's sole entrant to the Winter Olympics competes for the title of "best dressed."

It's Tuesday, and here are the "5 Things to Know for Your New Day."
1. WINTER WEATHER
The big chill: The Deep South will be in the deep freeze. The Big Easy will become the Big Icy. And Hotlanta will be more like Hurtlanta. It'll be brrrrutally cold today, folks. C-O-L-D!! As in French Quarter-shutting-down cold. As in the world's busiest airport-canceling-hundreds-of-flights cold. As in, the polar vortex-don't-play cold.
"Limbs will break. Trees will fall. Power will be out."
- Robert Latham, emergency management director for Mississippi, where up to 4 inches of snow may fall
Bundle up, stock up and stay safe. If you hit the road, take a fully charged cell phone. And if you go to the store, don't be greedy - save a loaf for your fellow man.
More: Deep freeze stretches down to Gulf Coast
We'll have Ted Rowlands, Chad Myers and Indra Petersons - all through the morning, all bringing you the latest
2. STATE OF THE UNION
A defining test: This time last year, President Obama laid out several priorities in his State of the Union address. How many did he get through Congress? Zip. Congress ignored his calls for a new jobs program, for new gun controls and for sweeping immigration reform.
That's why tonight's address is a biggie. Can Obama rebuild his standing? Force action on some of his priorities? Or will this be another year of gridlock - a gateway to "lame duck" status?
More: State of the Union speech is crunch time for Obama
This morning, senior White House correspondent Brianna Keilar will offer us a preview of the address. Commentators Kevin Madden and Paul Begala will give us their take. In the 7 o' clock hour, we will hear from Rep. Steve King, R-Iowa, and in the 8 o' clock hour, from White House senior adviser Valerie Jarrett.
3. NORTH CAROLINA POLICE SHOOTING
"God's will will be done": That's Jonathan Ferrell's mother, Georgia, after a second grand jury indicted the cop who shot her unarmed son to death. The word "second" is important here. The first one refused to.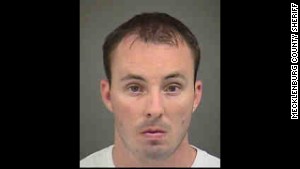 You may remember the case: Officer Randall Kerrick of the Charlotte-Mecklenburg PD fatally shot Ferrell after a woman - home alone with her 1-year-old child - called 911 and reported someone was trying to break down her front door. This was last September, and Ferrell was reportedly seeking help after a car crash.

Last week, a grand jury declined to indict Kerrick. But prosecutors sent the case back. And yesterday, the officer was indicted on a voluntary manslaughter charge.
"It is the first step towards justice"
- Charles Monnett, Ferrell family attorney
More: 2nd grand jury indicts officer in shooting of ex-FAMU football player
At 7, Jean Casarez will break down why prosecutors sought a second grand jury and why the defense is vehemently objecting.
4. MIZZOU RAPE INVESTIGATION
A complicated case: Sasha Menu Courey was a freshman on the University of Missouri swim team when she was allegedly raped by a football player. Her parents say she told a campus nurse and a campus doctor about it, but the school didn't investigate. The school says it wasn't told about the suspected attack because one of its policies doesn't allow staffers to report sexual assaults without a victim's consent.

Courey committed suicide in 2011. And now, after a piece by ESPN's "Outside the Lines," the school has referred the case to the Columbia PD for investigation.
"Our detectives will do the best they can. ... It was not reported to us until now, and we are almost four years behind."
- Columbia Police Sgt. Joe Bernhard
More: Police investigate alleged rape of collegiate swimmer who died in suicide
5. PETE SEEGER
An icon passes: He was an iconoclast. A legend. A tireless activist who gave voice to the voiceless until the very end. Pete Seeger, the man considered the father of folk music and who inspired legions of activist singer-songwriters, died yesterday. His grandson told CNN that the 94-year-old singer died of natural causes.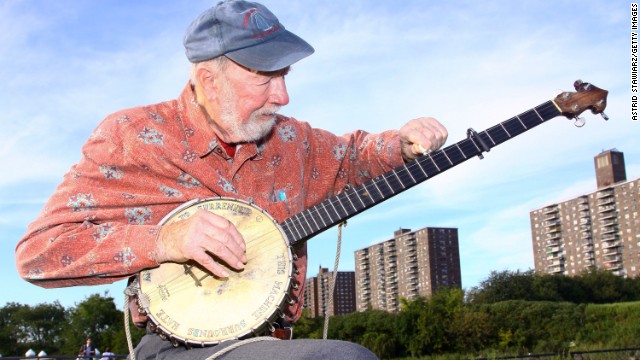 Regardless of how old you are, there's bound to be one Pete Seeger song or another that has touched you, roused you to action or, at the very least, prompted you to hum along: "Where have all the flowers gone," "Guantanamera," "Turn, turn, turn."
[youtube=http://www.youtube.com/watch?v=qskIdtLuMq8]
We learned of Seeger's death early this morning. And the tributes and tweets followed almost immediately.
Those are your five biggies for the day. Here are a few others that are brewing and have the Internet buzzing.
- Just say No: So, this is a police dash cam video of a man being pulled over and arrested, while his girlfriend sobs hysterically. Except it isn't. The dude planned the whole thing with the cops as a romantic (??) ploy to propose to his woman. You'd think she'd say no after a stunt like that. But alas. "It went from being the most devastating thing I have had to witness, to feeling the most ecstatic I have ever felt."
[youtube=http://www.youtube.com/watch?v=H3AoY_hJVsI&feature=youtu.be]
- Take notes, Mr. Traffic-Stop Proposer: This is how you do romantic: Guy surprises his fiancee by restoring her childhood teddy bear. Whitey was in two pieces - head ripped off; his nose, ear and eyes missing; and his stuffing gone. And he was very, very special. "Whitey was given to her as a gift during her mother's baby shower for Jess, so he is technically older than she is!" Her reaction is priceless!
[youtube=http://www.youtube.com/watch?v=9Q8dJsu4SyQ]
- Christmas redemption:  Did you blow it with your Christmas gifts this year?  Struggled with what to get that guy who has everything?  How about a RAPTOR CAGE used in "Jurassic Park"? It could be yours for only $100,000 (well, probably more by the time bidding wraps up).  It's worth it though; it even comes with a full-size raptor (though we're guessing it's a prop).
- Weather cancellation: Said one Redditor: "And that's why they'll never find Sasquatch."
- Sports made fabulous: Finally, we give you Hubertus von Hohenlohe, eclectic rich German nobleman and Mexico's sole entrant at the Winter Olympics. The 55-year-old's an alpine skier and a six-time Olympian. He's never medaled and doubts he'll take the gold this time. But he wants to win the title of "best dressed." And so, he'll compete in this mariachi-themed costume:
There you go. All you need to know to get an early start to your morning.
Be sure to tune in to "New Day" from 6 to 9 a.m. ET. Join us at NewDayCNN.com, and go and have a GREAT NEW DAY!