A good third of the nation is shivering in the deep freeze, NFL star Richard Sherman is only sort of sorry for the post-game rant he let out on live TV, and after a dreary inauguration day, New Jersey Gov. Chris Christie has a snow day off.
Welcome to the Wednesday edition of "5 Things to Know for Your New Day."
1. WINTER WEATHER
Waiting game: Pull up a chair and sit a spell. Er … make that two days. Such is life at New York's LaGuardia Airport, where a major winter snowstorm and lots of flight cancellations mean packed hotels. So, comfy airport chairs are the only option for a horde of sleep-deprived air travelers. Many won't be getting off the ground before tomorrow, so they sit and watch more snow pile onto the winter wonderland in New England. Forecasters say that the northeast third of the country will freeze out at temps 15 to 30 degrees below normal.
Snow can be a lot of fun, too, as CNN's Jason Carroll found out when he landed in the middle of a New York City snowball fight.
Indra Petersons gives us the weather outlook and Rene Marsh looks at the flight situation at 6, 7 and 8; Pamela Brown talks about treacherous traffic at 6 and 8; and at 7, Athena Jones looks at how snow shut down the nation's capital.
2. RICHARD SHERMAN
No regrets? He was still in the zone. That's how Richard Sherman explained a roaring rant he let out after an NFL playoff game Sunday. The Seattle Seahawks cornerback had just made THE big play of the game, when he tipped the ball away from 49ers receiver Michael Crabtree, and secured the 'Hawks spot in the Super Bowl. Turns out Sherman had an old personal beef with Crabtree, and while he was still pumped, he used the post-game mic to vent straight at him, wrasslin' style. People ranted back at him on social media, including some comments with racial undertones. Sherman's calmer now, and he tells CNN in an exclusive interview that he is not too terribly sorry, although he feels his attack was immature.
It didn't take long for somebody to pick up on the wrasslin' quality of Sherman's smackdown and launch a parody:
[youtube=http://www.youtube.com/watch?v=S17pwLqsBxU]
Rachel Nichols talks about the rant at 6 and 8.
3. LEVINSON AND IRAN
Time to come clean? The family of Bob Levinson, who disappeared in Iran seven years ago, has long known he worked for the CIA. But they have been afraid to say so. For years, they say, the U.S. government told them it would put Levinson in more jeopardy to tell the truth. But now they say they must. Making the disclosure could be the key to bringing him home, they told CNN in an exclusive interview. U.S. officials have consistently denied publicly that Levinson was working for the government. And yesterday was no different. Officials declined to comment when questioned by CNN yesterday. But the family says it wants Washington to open up publicly about Levinson's intel work – before it's too late.
4. SYRIA PEACE TALKS
A long shot: The world's top diplomats are meeting today in Switzerland with the ambitious aim of ending the civil war in Syria. But the conflict that has killed 100,000 people shows no signs of ending anytime soon. The worst of enemies will share the diplomatic roundtable, as representatives of Syria's government meet there with members of the rebel opposition. They've been at each other's throats for nearly three years, and as they sit at the table, back home their men will still be killing each other. Analysts think the chances of reaching a solution soon are dim.
5. CHRIS CHRISTIE
When it rains, it pours: Make that "snows." Yesterday, New Jersey Gov. Chris Christie was inaugurated for a second term, but otherwise, he had a pretty rotten day. State lawmakers announced they'd make a super-committee to investigate charges surrounding the bridge controversy. A prominent Republican called for Christie to vacate an important party post, and former Olympic star Carl Lewis accused Christie of pressuring him not to run for office - an accusation that a Christie spokesman denied as "sour grapes." A snowstorm upstaged Christie's inaugural speech and forced him to cancel his evening gala and post-inaugural events planned for today. Maybe a snow day off isn't so bad after all.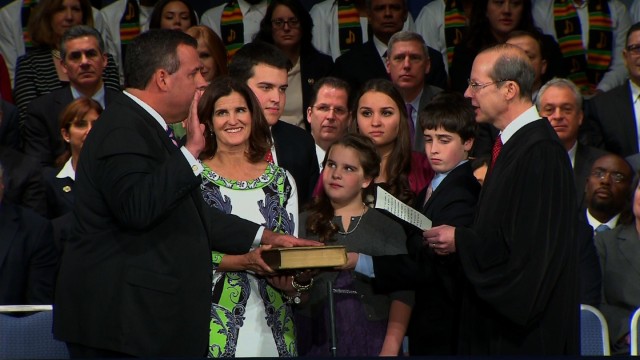 Erin McPike reports on Christie's woes at 6, and former NYC Mayor Rudy Giuliani, a Republican colleague, joins us at 8.
Those are your five biggies for the day. Here are a few others that are brewing and have the Internet buzzing:
When we say "buzzing" … : Remember how that viral cellphone video got Toronto's mayor caught smoking crack? Another one yesterday created more online … um … buzz for Rob Ford, who promised he'd stop drinking after hitting the bottle way too much. Ford went for some late-night munchies – and was really, really sloshed. Out came a cellphone, and bam, new scandal video!
Buffett's b-ball bracket billion: Wanna make $1 billion? Yeah, with a "b." That's pocket change for Warren Buffett, because he's about the world's fourth richest person. He'll fork it over, if you can come up with the perfect prediction of how the NCAA playoffs will go – every game, every win, every loss. The perfect bracket.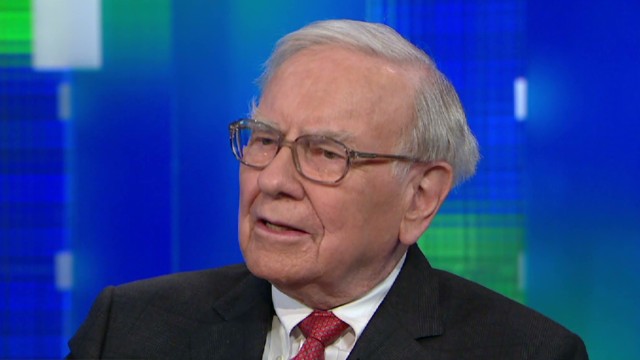 Heavenly ballet: A flock of birds etch the most moving poetry with their wings into the sky. This evergreen viral video will leave you speechless!
Murmuration from Islands & Rivers on Vimeo.
Ä'll be bäck: We all know Arnold Schwarzenegger can be funny; he proved that in "Kindergarten Cop." Here he goes again. Top off the "Governator" with a funny wig and a mustache, hide some cameras and let him get weird on people working out, and this is what you get.
[youtube=http://www.youtube.com/watch?v=9LUv3kbmNfg]
Quiet inspiration: Derrick Coleman's story is making the rounds. He's the hearing impaired running back for the Seattle Seahawks who's made it to the Super Bowl. A little girl in the same boat felt inspired by his success and wrote him a sweet little letter.
Here's an extra buzzy to get you started into your day.
Cute kitties! Well, until they're all grown up in a couple of years. A robot camera rolls up to some lion cubs to check them out … or is it the other way around?
[youtube=http://www.youtube.com/watch?v=QQcJXbhqt1s]
There you go. All you need to know to get an early start to your morning. Be sure to tune into "New Day" from 6 to 9 a.m. ET, join us at CNN.com/NewDay, and go and have a GREAT NEW DAY.