Shootings in a school and in a movie theater have left Americans shaken again, new helmet cam video reveals how rescue vehicles ran over a survivor of the Asiana Airlines crash, and same-sex marriage could become OK in Oklahoma after a new court ruling.
Welcome to the Wednesday edition of "5 Things to Know for Your New Day."
1. ASIANA CRASH
After survival, tragedy: Teenager Ye Meng Yuan didn't die from a plane crash at San Francisco International Airport last July. She actually survived the impact, only to die shortly after when a fire truck ran over her. Now, newly released helmet cam video obtained by CBS suggests emergency workers saw Ye's injured body on the ground before she was fatally struck, challenging earlier claims that she was accidentally run over because she may have been covered in firefighting foam. In the footage, one firefighter tried to stop an emergency vehicle racing toward the scene. "Whoa, whoa, whoa! Stop, stop, stop! There's a body ... there's a body right there. Right in front of you," the firefighter told the driver.
Look for the new video on CNN's "New Day."
Dan Simon shows the new, revealing video at 6, 7 and 8.
2. MOVIE THEATER SHOOTING
May not have been the first time: The texting dispute that turned deadly inside a Florida cinema apparently wasn't the first run-in that suspect Curtis Reeves had at a movie theater.  Another moviegoer told prosecutors that the 71-year-old former Tampa cop saw her texting and "glared at her the entire time throughout the movie" about three weeks ago. When the woman took a restroom break, Reeves followed her and "made her very uncomfortable," prosecutors said. The woman said she first heard about Monday's shooting on the radio while she was driving. "I had to pull over the car because ... it could have been us," she told CNN affiliate WTSP. "It was just so close to home."
Martin Savidge talks about the case at 6 and 7.
3. SCHOOL SHOOTING
Stay home: The 12-year-old boy who allegedly opened fire inside a crowded gym with a shotgun may have warned some students not to go to school before the attack.  Students streamed out of Berrendo Middle School in Roswell, New Mexico, yesterday, sobbing and terrified after the shotgun blasts wounded two classmates. One of them, a 13-year-old girl, was operated on and is in stable condition. An 11-year-old boy is in critical condition with wounds to his head and neck. The shooting stopped when a teacher walked up to the preteen and talked him into putting the gun down.
Stephanie Elam talks about a tragedy that could have been worse at 6, 7 and 8. We hear from a shocked parent at 7 and get some background from HLN legal analyst Joey Jackson at 8.
4. BIEBER TROUBLE
Teen mischief: What kind of trouble can a 19-year-old get into? Pop star Justin Bieber might know. Police raided his house yesterday to look for evidence of a prank he is accused of. While there, they picked up house guest rapper Lil Za, saying they found drugs on him. What started it? Neighbors say Bieber egged their house, and they made a fuzzy cell phone video of the incident that turned up on TMZ's website. We can't confirm the images' authenticity, and there is not a lot to see, because it's dark. And that evidence police were looking for? Bieber's own surveillance camera video - so they can see if anyone is heading next door with eggs.
Nischelle Turner gives us the Bieber lowdown at 6 and 8.
5. SAME-SEX MARRIAGE
It may be OK in Oklahoma: Soon. Maybe. The state's constitution has an amendment that says only heterosexual couples are allowed to marry. Voters approved it about 10 years ago. But yesterday, a federal judge in Oklahoma said the amendment is not OK, because it violates the 14th Amendment of the U.S. Constitution - the one that guarantees equal treatment under the law. But don't listen for wedding bells for same-sex couples anytime soon, as other people in the conservative state may appeal the ruling.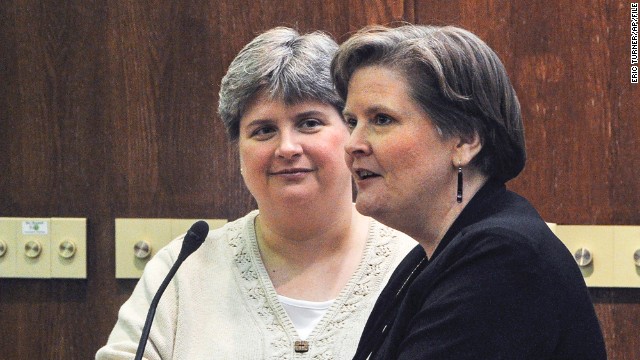 Back when voters approved the amendment, Sharon Baldwin and Mary Bishop filed suit against the marriage ban.
Here's an extra biggie to help you start your day - a "New Day" exclusive!
SATIRE JAILING
There's no place like home: Shezanne Cassim is glad to be back in the U.S. of A. after spending time in jail in the United Arab Emirates. He and some friends made a goofy video making fun of Dubai's youth and got into a lot of trouble for it. Now that he's back on American soil, he's telling all to "New Day" in an exclusive interview. He waited five months behind bars, he says, before anyone even told him what he what the complaint was.
Cassim tells his story exclusively to "New Day" at 7 and 8.
Those are your biggies for the day. Here are a few others that are brewing and have the Internet buzzing:
The show must go on: But not before an incredibly heartwarming interruption. In the middle of a performance of "Peter Pan" in Glasgow, Scotland, the actor playing Peter called over to the actress playing Wendy, dropped to one knee and popped out a ring. She said cried and said …
[youtube="http://www.youtube.com/watch?v=1NOzkyhA-aQ"%5D
Cute or WHAT? Babies are soooo adorable! But top one off with a Cabbage Patch-style wig, and you get … jaws dropping and eyes popping. If this cute-on-cuteness happens to rub you the right way, an artist on the crafts website Etsy will custom knit one of these wool caps for your little doll for a song.
If only animals could talk: Some can - parrots, mynah birds and dogs. OK, canine vocabularies are pretty limited. But the word "no!" seems pretty easy to say, especially when a dog absolutely does not want to go into its kennel.
[youtube="http://www.youtube.com/watch?v=hCRDskZrUMU"%5D
Winnie the OH MY GOD RUNNNN! Your sweet, cuddly little childhood cartoon friends like Winnie the Pooh, the Teletubbies and Bambi? Well, they're all grown up now and, frankly, they're psycho. At least that's how illustrator Tohad draws them. And they're pretty funny in a dark kind of way.
No "Hell's." Just "Angels": The Pope on a Harley? 'Fraid not; Francis won't be straddlin' this hog. It was a gift from when he blessed thousands of Harley riders in June, and now he is putting the bike on auction to raise money to feed the poor. He personally hand-signed it "Francesco" across the gas tank.
Be sure to tune in to "New Day" from 6 to 9 a.m. ET. Join us at NewDayCNN.com, and go and have a GREAT NEW DAY!