A Nor'easter is blanketing the Northeast in white and gumming up air travel, a man is suspected of stealing 60 brains, and an undocumented immigrant is legally allowed to practice law in California.
Welcome to the Friday edition of "5 Things to Know for Your New Day."
1. NOR'EASTER
Sock it to me, sort of: So, snow is whipping across the Northeast, the wind chill is giving everybody's face a nearly subzero close shave, and the governor of Connecticut, Dan Malloy, comes out and basically says: Ain't nearly as bad as it was last year. OK, it's winter in New England and Chicago, and, sure, it snows there then, but the white blanket is flopping down a foot or a couple thick on about 100 million people. Driving is going to be ugly; there will be wrecks and tragedy, so it's time to be careful – as usual this time of year. If you're a snowbird, you might miss your flight to Vegas or Honolulu or spend a lot of time perusing airports, while you wait on God-only-knows-what plane to come get you. Flight cancellations were pushing 1,500 before dawn, with even more delays. New York, Boston, Philly and Chicago airports top the ugh list on Flightaware.com.
Indra Petersons, Laurie Segall, Pamela Brown and Ted Rowlands wade through the snow in the Northeast and Midwest and through the mire at airports at 6, 7 and 8.
2. STOLEN BRAINS
Sixty hot heads: This was not was your typical undercover sting. For starters, it was happening at an Indiana Dairy Queen. And the target was brains. Yeah, a brain bandit. The arrest last month of a 21-year-old suspect uncovered, police say, a macabre scheme to steal the brains of dead mental patients and sell them online. David Charles was allegedly peddling some 60 brains. And yes, amazingly there were customers. Court documents said some jars were sold on the auction site eBay by a middleman, despite a company policy against listing "humans, the human body, or any human body parts or products."
https://twitter.com/HelpOnTheWay23/status/418860705098366976
3. FAKED DEATH
Wanted: Dead or alive? Aubrey Lee Price was declared legally dead, but it was allegedly part of a ploy to get away from the law. Seems he may have defrauded some investors out of their life's savings to the tune of $40 million. That's what the FBI said back when they started chasing Price, a former banker who was also once a minister. So one can imagine why he'd want to disappear. Some say he jumped off a ferry in Florida a year and a half ago to make it look like he drowned. He didn't, of course. Then he completely changed his look from clean-cut to a hippy hairdo – beard and all. That part worked. He really, really does not look like the same man. Sounds amusing, but it was cruel, too. He never let his family know that he was still alive. Trying too hard to stay out of sight is what got him caught, it seems. His car's windows were way too tinted for Georgia police, and they pulled him over for it on New Year's Eve.
David Mattingly fills us in on the mysterious former banker at 6 and 8.
4. UNDOCUMENTED LAWYER
"Illegal" legal eagle: Now here's a story that will spur some debate. Sergio Garcia has been in the United States technically for 30 years all total. He speaks perfect English, went to college, worked hard, got a law degree, passed the bar exam - but somehow, that green card thing has not worked out for him. The visa he applied for 19 years ago is hung up in bureaucracy, so he's undocumented despite his own best efforts. The California state bar blocked his law license over his undocumented status. So, he sued. Yesterday, the California Supreme Court said he's right. He should be allowed to practice law in his home state. Critics are asking how someone who lives in the country illegally can swear to uphold the law. Others say Garcia is a law-abiding resident, and it's not his fault that the system is broken.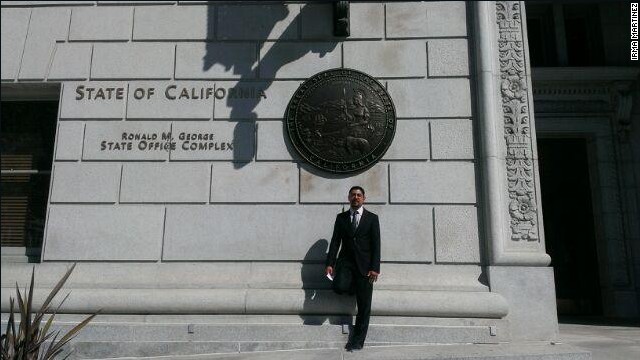 5. MURDERED PRIEST
They had him, but then ... : The man accused of murdering Eric Freed, a California priest, on New Year's Day was being held by police just hours before the killing, but they had to let him go. Police took Gary Lee Bullock into custody early New Year's Eve, because he was acting drunk and belligerent in public. They say he was very hot to handle. He was so rowdy, they say, that a jail refused to keep him, so officers moved Bullock to a hospital, where he allegedly flipped out, so they restrained him and took him back to jail. After he spent eight hours sobering up, they let him go. Less than two hours later, the church called police to let them know Bullock was there, but he wasn't drunk, so they couldn't take him again. In the morning, the church phoned police again. Freed, a priest, was found dead in the rectory, they told police. Yesterday, police rounded up Bullock again, who they say also had stolen the priest's car. Freed apparently died from a beating.
https://twitter.com/sheckyknowles/status/418953315951452160
Dan Simon tells the tragic story at 7.
Those are your five biggies for the day. Here are a few others that are brewing and have the Internet buzzing:

Snow pooch in Batman pajamas: At least somebody's glad it snowed. Mosley the greyhound goes bonkers over the fresh power and spins out while doing doughnuts on the ice in his Batman snow suit. Good thing he can't drive.
[youtube="https://www.youtube.com/watch?v=7-feD8YMUIM&feature=youtube_gdata_player"%5D
Fowl play: Maybe it was because the courier was delivering Christmas presents way late. Or maybe after surviving Thanksgiving, a turkey just wanted some payback. A crazed gobbler went after a delivery driver at a FedEx truck and would not relent, until he climbed into a UPS truck parked behind it.
[youtube="http://www.youtube.com/watch?v=-P2SaxyMrKA#t=11"%5D
Move over Super Bowl; Puppy Bowl is back: Ask the MVP of this football game how it was when it's over, and he (or she) will say: "Ruff!" The fluffiest, cutest puppies take to a mock football field for Puppy Bowl on Animal Planet every year on Super Bowl Sunday. (February 2 this year.) It's a sports spectacular of adorableness – and not just with baby doggies. The cheerleaders are hedgehogs, and the halftime show is put on by kittens.
[youtube="http://www.youtube.com/watch?v=15SdPnof0FY#t=54"%5D
Vive la boom-bah: A drummer takes us through the hinterlands of France with a snappy boom-boom-bah beat. The background jumps from a meadow to a garage then a soccer pitch, but the man at the small drum set doesn't miss a single lick. It's an innovative promotional video for a group of French drummers who are showing off their bang-up talents.
[youtube="http://www.youtube.com/watch?v=mY-f68J5PPo#t=47"%5D
A drone to love: OK, one last New Year's video - really, last one, promise! It's just too good to pass up. You know those drones we all love to hate? Well, one in Iceland got a priceless panorama shot of fireworks going off when the clock struck 2014. It seems drones might be good for something after all.
[youtube="http://www.youtube.com/watch?v=8xkW4rIvS1o#t=44"%5D
How about a sweet little extra-buzzie? A short one to jump-start your morning - the rooster's crow, if you will?
Breakfast is calling: If you're reading this, you may be about to say hello to a nice portion of sunny-side-up eggs. Well, they're here to greet you back. Have a listen. And good eating!
[youtube="http://www.youtube.com/watch?v=6xncCLKC7gY"%5D
There you go. All you need to know to get an early start to your morning. Be sure to tune in to "New Day" from 6 to 9 a.m. ET, join us at CNN.com/NewDay and go and have a GREAT NEW DAY!