It's the day after Christmas and may not be the best day for Congress or UPS. A new poll suggests this last Congress could have been the worst ever, and UPS struggles to catch up.
It's Thursday, and here are the "5 Things to Know for Your New Day."
1. CHRISTMAS AROUND THE WORLD
Peace on Earth: From the typhoon-rattled Philippines to conflict-torn Syria to the faithful gathered in St. Peter's Square at the Vatican - all very different places, but all held similar wishes of hope on Christmas. Pope Francis gave his first Christmas Day address Wednesday. He spoke about the phrase "peace on Earth."  The pontiff told tens of thousands of people gathered in front of the Vatican exactly where he wants that peace to happen. In Syria, South Sudan, the Central African Republic and the Holy Land, the Pope said. In the United Kingdom, Queen Elizabeth II called for quiet reflection. In Hawaii, where President Barack Obama is on vacation with his family, he urged Americans to embrace the Christmas spirit.
And of course the one who embraced the Christmas spirit was ol' Santa Claus. St. Nick was spotted everywhere in the last couple days. He was seen skiing, surfing, riding a fire truck, at the New York Stock Exchange , even scuba diving. …
https://twitter.com/nolan_north/status/416087735355838464
https://twitter.com/justinbieber/status/415893933043224576
Erin McLaughlin and our team will provide a recap of Wednesday's festivities.

2. WINTER STORM
Scary Christmas: Tens of thousands did not get the Christmas they were expecting, and many may still be in the dark. Many were without electricity in Michigan, southern Ontario and parts of the U.S. Northeast on Wednesday after winter storms struck. Bonita Thomas told us she spent Christmas in a shelter trying to stay warm after her building in the Flint, Michigan, area lost power. She said she tried to tough it out in her apartment, but it just got too cold. Thomas had to go to the shelter, joining some 75 people there. "It was just getting too hard to bear," she said. The bad news is some utility companies in the area said the last outages might not be fixed until the weekend.
https://twitter.com/Aust_Norton/status/415267711405412352
Jennifer Gray will be live on this story.
3. UPS WOES
Special delivery: Some delayed Christmas gifts may be arriving Thursday from UPS. And the company spent Wednesday apologizing for the problems that left some Americans with gifts missing from under the Christmas tree. The delivery giant said it was hit with bad weather and an influx of online shopping after Black Friday. And that one-two punch caused the company to stumble and not keep up with demand. "We're terribly sorry," spokeswoman Natalie Black told CNN. "We know how hard it is for everyone to receive their holiday packages, and we're working around the clock to resolve this issue." The apology has not stopped the stream of criticism from some frustrated shoppers.
https://twitter.com/FromCarl/status/415951341379661824
But if UPS thought things are about to slow down, it may be in for a surprise. The after-Christmas sale season is beginning, and some analysts think it's as important as Christmas.

Nick Valencia will be live on this story.
4. CONGRESS POLL
Worst ever: It's been called the "do-nothing" Congress and many other labels. But how about "worst ever" for a new label for the 113th Congress? Wow. That's how many in a new CNN/ORC International poll released Thursday see it. Two-thirds of those questioned said the current Congress is the worst in their lifetime, with 28% disagreeing. "That sentiment exists among all demographic and political subgroups. Men, women, rich, poor, young, old - all think this year's Congress has been the worst they can remember," said Keating Holland, CNN polling director. A look at the numbers shows that in 2013, Congress spent more time at the office but got less done than at any time in recent history. How much got done? There are many measures of congressional activity, but one has sparked the "do-nothing" label:  bills passed. This year Congress passed 64 bills, which is the lowest amount in modern history. Last year, Congress, passed 148.
Dana Bash will be live on this story.
5. SOUTH SUDAN CONFLICT
More fighting: Four Navy SEALs were injured Wednesday as a small number of U.S. troops were in South Sudan trying to help in the conflict there. In the South Sudan city of Bor, the evidence of the conflict was everywhere. On Christmas Day, the stores were looted, emptied of everything. The hospitals had no medicine. Even the doctors ran to save their lives. On both sides of main roads, streams of people carried all their belongings. Even chairs. The fighting between rival ethnic groups, which began in the middle of December, has led to mass killings as evidenced by mass graves, the United Nations has said. The U.N. Security Council has just voted to add thousands more troops to its peacekeeping forces there.
https://twitter.com/cnnbrk/status/415584236259659776
Arwa Damon will report on this story.
Those are your five biggies for the day. Here are a few others that are brewing and have the Internet buzzing.
- Christmas fails: Now that you got your gifts, you can take time and laugh at some of Santa's most unfortunate moments.
http://www.youtube.com/watch?v=shZafPmUVPg
- Terrible Christmas gifts: Remember this? A TV host asked parents to buy horrible Christmas gifts for their kids and film their reactions. Oh, no.
- A hot engagement ring: This Craigslist post offers a tempting deal: a 1.5-carat engagement ring in the original box for $1,800. The only catch? Well, according to the poster, it was worn by "Satan herself."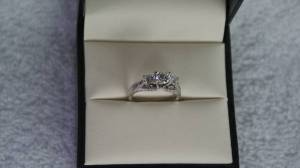 - Meatball on carousel: Look, it's a cute doggie running and yelping gleefully on a merry-go-round. Give it a look! No, seriously, it's pretty adorable (if a little repetitive).
- Basketball dance-off: This kid starts out a little shy at the one-minute mark but then pulls out more Michael Jackson moves than any one person needs.
http://www.youtube.com/watch?v=9Yx2EWnyz7w&feature=youtu.be
There you go. All you need to know to get an early start to your morning.
Be sure to tune in to "New Day" from 6 to 9 a.m. ET. Join us at NewDayCNN.com and go and have a GREAT NEW DAY!