It's Turkey Day, a crucial Obamacare deadline is getting closer and three girls in Arizona are probably very thankful to be rescued. Hello.
It's Thursday, and here are the "5 Things to Know for Your New Day."
Every weekday morning around 6, we'll hit the top five stories of the day, clue you in on a few other buzzy items, and let you know about some of the must-watch stories coming up on CNN's morning show, "New Day."
1. Thanksgiving
Turkey time: The monstrous winter storm fizzled.  Now the pans will sizzle. It's turkey time! Or for you vegetarians,  it's tofu time. Forecasters thought the Northeast could be turned into a Snowmageddon. Not a good scene during one of  the busiest travel times of the year. But the worst, which really wasn't that bad, had passed by last night. The only thing left threatened was Kermit , Snoopy and their giant friends. The Macy Thanksgiving Day Parade folks said heavy winds could cause them to ground some of our favorite giant balloons. They'll make a decision before the parade starts. And for those not in a turkey-induced (or tofu) coma later today, you can get started on shopping. K-Mart is one of a handful of retailers open today. You can call it Black Thursday.
Jason Carroll will be live throughout the show from New York on the parade. Nick Valencia reports on Thanksgiving shopping throughout the show.
2. Nigella Lawson
Scandal: Salacious details are coming out about celebrity chef Nigella Lawson as a trial continues in the UK. And she's not even the one on trial.  Two former personal assistants are accused of stealing some 685,000 pounds ($1.1 million) from Lawson and her ex-husband. Earlier this week, an e-mail read in court from her husband alleged that Lawson used drugs. The assistants would "get off" because, he wrote, Lawson was using cocaine and marijuana on a daily basis and "allowed the sisters to spend whatever they liked," the e-mail said. The former assistants, Italian sisters, have denied they embezzled any money from the couple. The husband, renowned art collector Charles Saatchi, is no stranger to headlines himself. In the summer, he was photographed in an argument with Lawson at a restaurant. He was seen with his hand around her throat. He was warned by the police. This led to their divorce. He is scheduled to testify today. Fasten your seat belts.
Max Foster will give updates on this at 7.
3. Sriracha factory
Spicy:  A Sriracha hot sauce factory in Los Angeles County is getting a chilly reception. The maker of the uniquely hot chili sauce, Huy Fong Foods, was sued after residents complained of watery eyes, sore throats and headaches. "You couldn't stay outside in some places," a city manager there says. "We've had softball teams that have had to cancel their games and practices because their eyes were watering." The hot sauce maker declined to comment to CNN. They may have been too busy trying to fix the factory's ventilation system.
Tune in to news headlines with Pamela Brown throughout the show.
4. Obamacare site:
Come back: But not so fast. That's what President Obama's administration seems to be saying about his problem-plagued Obamacare website. Obama and Health Secretary Kathleen Sebelius say the website will work much better come Saturday. That will meet a deadline they have placed on fixing some of the problems. But there are also concerns about pushing too hard and encouraging a surge of people to sign up over the weekend. Nobody at the White House wants the website to get overwhelmed. Nobody wants a repeat of the October debacle. Julie Bataille, spokeswoman for the federal unit in charge of the roll out , says despite the deadline, they will keep working. The November 30 target for website improvements "does not represent a relaunch of HealthCare.gov; it is not a magical date," she says. "There will be times after November 30th when HealthCare.gov does not function properly," Bataille says.  These issues are not helping Obama's poll numbers. Another one came out today.
Jill Dougherty will be live at 7 and 8 to give us the latest.
5. Arizona girls rescued
Trapped: Police are still trying to sort this one out. But the details are shocking. Three sisters were imprisoned in their own home, maybe as long as two years, police say. They were locked in bedrooms by their knife-wielding stepfather and bombarded by a constant barrage of music or white noise. This may have never have been known if two of the girls had not escaped Tuesday morning. The girls, ages 12 and 13, ran to a neighbor's house, Tucson police said. They were thin, malnourished and filthy, police say. Officers arrived and found the other sister,17, locked in a bedroom of the home. The stepfather and girls' mother were arrested. The mother faces kidnapping and child abuse charges, police say. The stepfather, police say, faces the same charges, plus a sex abuse charge. The neighbors say they did not even know children lived next door. One of the girl's kept a journal that may help in the investigation.
Tune in to news headlines with Pamela Brown throughout the show.
Those are your five biggies for the day. Here are a few others that are brewing and have the Internet buzzing.
- Kentucky Fried Candle: It's not too late to go out and get one of these candles for dinner. Well maybe it is. But just imagine having the aroma of fried chicken flowing over your dinner this Thanksgiving. This genius used the grease from fried chicken to make a candle.
- Chubby chasers: And since we are on a Thanksgiving theme here, how do think Superman would look after too many turkey dinners? This website did the work for ya. The site called "supersized heroes" shows what would happen if your favorite superhero were to eat too much stuffing. Let's be honest, though, if you could fly and had super-strength, why would you bother going to the gym?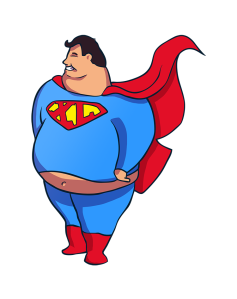 - Back Up: Don't you wish people would respect your personal space, especially during Thanksgiving, with the hugs and the random cheek pinches? Well, this woman created this vest that will make most respect her space.
- A Turkey's revenge: This one is for the turkeys.
[youtube=http://www.youtube.com/watch?v=GpSLQZWyQbA]
There you go. All you need to know to get an early start to your morning.
Be sure to tune in to "New Day" from 6 to 9 a.m. ET. Join us at NewDayCNN.com and go and have a GREAT NEW DAY!