The nation marks JFK's assassination 50 years later, the Senate's gone "nuclear" and the Feds may allow cell phone chatter in the air.

It's Friday, and here are the "5 Things to Know for Your New Day."
Every weekday morning around 6, we'll hit the top five stories of the day, clue you in on a few other buzzy items and let you know about some of the must-watch stories coming up on CNN's morning show "New Day."
1. SENATE FILIBUSTER LIMIT
Going nuclear:  Senate Democrats dropped a filibuster bomb yesterday. By a 52-48 vote, they ended the minority party's ability to filibuster most presidential nominees. The change allows the Senate to end debate on executive and judicial branch nominees with a simple majority rather than a supermajority of 60 votes.  Republicans are not amused. They warned Democrats that they will regret their action, especially if they lose control of the Senate.  Both parties are guilty of political hijinks involving filibusters. Now the question is: What kind of fallout will result from the so-called nuclear option? "They will pay a very, very heavy price for it," veteran GOP Sen. John McCain says. Confused?  Check out the nuclear option explainer.
Dana Bash will break it down for us all morning.
2. JFK ASSASSINATION

50 years later:  If you were alive at the time,  you probably remember where you were when President John F. Kennedy fell to an assassin's bullets in Dallas.  There are a lot of indelible images from that period. Little John F. Kennedy's salute to his dad on the day of his funeral.  Jackie Kennedy's pink suit and matching hat the day her husband died.  President Kennedy's image of youth and charisma, even in black-and-white photos.   Skeptics still doubt that Lee Harvey Oswald acted alone when he killed the 35th President of the United States.  And as the nation remembers the senseless act, conspiracy theories abound decades later. We'll have that and more on our anniversary coverage.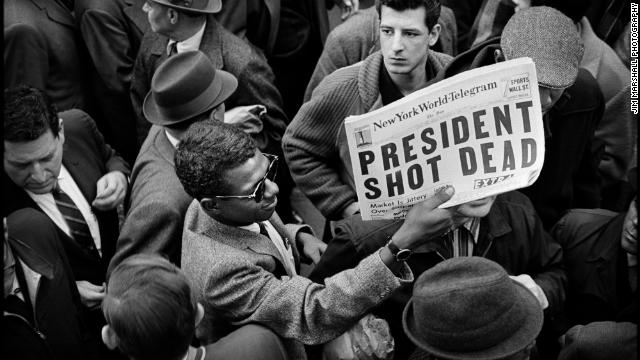 Ed Lavandera will be live all morning as part of our special anniversary coverage.
3. JAPAN'S NEW ISLAND
Rising from the ashes: Have you seen what's going on in the Pacific Ocean? An exploding volcano is giving the world another island.  Thick plumes of steam and ash are shooting from an underwater volcano, Japanese officials say.  It's still too soon to tell whether the island is here to stay. But if the sea doesn't reclaim it, we'll have a permanent island about 600 miles south of Tokyo.
 Pauline Chiou will give us the latest on the new island at 6.
4. INFLIGHT CELL PHONES
Goodbye, quiet time: Your cross-country flight may get less boring. Or really loud.  The Feds are proposing allowing passengers to use cell phones during regular flights. The Federal Communications Commission banned talking on mobile phones aboard aircraft years ago over concerns it could disrupt cellular towers on the ground. But modern technology delivers services safely in the air, and it may be time to update the policy, FCC Chairman Tom Wheeler says.  The FCC meets next month to decide what to do. But it's not getting much applause for this one. Folks are already petitioning the Obama administration to stop it from being implemented.
Brett Larson, host  of TechBytes, will break it down for us at 6. 
5. TEACHER RAPED, KILLED
Grand jury indicts student:  A 14-year-old boy in Massachusetts sexually assaulted his algebra teacher, killed her, then dumped her body, prosecutors say.  The teen is facing charges of murder, aggravated rape and armed robbery in last month's attack on Colleen Ritzer, 24.  "Horrific and unspeakable acts" is how District Attorney Jonathan Blodgett describes them. Prosecutors say they'll ask that he be tried as an adult.
Those are your five biggies for the day. Here are a few others that are brewing and have the Internet buzzing.
Sweet teamwork:  Most humans have tried this and failed miserably, but this cat and dog have mastered the popcorn trick.
[youtube=http://www.youtube.com/watch?v=m-I3FIU8nXY&feature=youtu.be]
Odd coupling: A brood of ducklings have a mama cat to take care of them.  Think the clever feline is fattening them up for Thanksgiving?
[youtube=http://www.youtube.com/watch?v=hfBjKOGlFkw&feature=youtu.be]
Polite doggie: This little pooch could teach humans a thing or two. Like how to wipe off your paws - over and over again - before entering the house.
[youtube=http://www.youtube.com/watch?v=PcXMJ9rytZI&feature=youtu.be]
One point for evolution:  This cow sure knows how to work the hand pump to get a drink.  This is one thirsty bovine.
[youtube=http://www.youtube.com/watch?v=NP6_if91ytE&feature=youtu.be]
There you go. All you need to know to get an early start to your morning.
Be sure to tune in to "New Day" from 6 to 9 a.m. ET. Join us at NewDayCNN.com and go and have a GREAT NEW DAY!