The shutdown may be gone, but it's not forgotten; tips pour in on baby Maria's identity, and the Obamacare website glitches are not over yet.
It's Monday and here are the "5 Things to Know for Your New Day." Every weekday morning around 6, we'll hit the top five stories of the day, clue you in on a few other buzzy items and let you know about the must-watch stories coming up on CNN's morning show "New Day."
1. GOVERNMENT SHUTDOWN
Pulse of the nation: The parks are open, our favorite panda cams are back on, and people are getting paychecks again. But despite the good news, there'll be no high-fiving among lawmakers any time soon.  Just more than half the public says that it's bad for the country that the GOP controls the House of Representatives, according to a new CNN poll that's out this morning. The poll also finds that more than six in 10 Americans say that Speaker of the House John Boehner should be replaced. And only 12% approve of the job Congress is doing.
Jim Acosta will answer those questions and more at 6, 7 and 8.
2. OBAMACARE GLITCH
Paging tech gurus: Was the website ready for prime time? That's the question as glitches continue to affect the Obamacare website.  The administration's getting frustrated as well. So much so, it says it has the "best and brightest" working to fix it. And staffing at call centers is up by 50% to fill the gap. Today at 11:25 a.m., President Obama will tell us more about what steps are being taken to fix healthcare.gov.  But Sen. John McCain has an idea. "Send Air Force One to Silicon Valley. Load it up with smart people, bring it back to Washington and fix this problem," he says.
Jim Acosta will be live at 6, 7 and 8 with more details.
3. GREECE MYSTERY GIRL
Baby Maria: The case of the little blond girl with sad eyes is getting more complicated.  The good news is tips are pouring in for Greek authorities seeking her identity. The bad news is no one knows for sure who her parents are. A couple found with her last week say they adopted Maria from her birth parents. But cops aren't so sure.  Maria has fair skin and blond hair. Her parents have darker complexions typical of gypsies, police say. The pair appears in court today.  Hopefully, they'll shed more light into this heartbreaking case.
Erin Mclaughlin will be live at 7 with the latest.
4. DICK CHENEY
Terror fear: The former VP took terror issues to heart, literally.  Six years ago, a doctor deactivated the wireless feature on his implanted defibrillator. He was afraid terrorists would kill him remotely by hacking into his heart. Sound familiar? You must be a "Homeland" fan!  On the show, the vice president is killed the same way.  Cheney had a reason to worry. U.S. officials issued a report last year on the ability to hack medical devices.
Kevin Madden will  give us more details at 6. And watch the entire Cheney interview on CNN on "AC 360" on Tuesday.
5. PRISON ESCAPEES
Back behind bars:  They ran, they saw, they were cornered. That sums up the story of two convicted killers mistakenly released from a Florida prison. Joseph Jenkins left prison in late September. Charles Walker walked earlier this month.  After weeks on the lam, a friend finally snitched. As they waited for their ride to Atlanta, marshals pulled up at their Panama City hideout. And boy do they have questions to answer. Like, who forged their release papers? How did they get out of Orlando? Who was picking them up when they were busted?  Officials say it ain't over yet.  Any accomplices will be arrested.
Nick Valencia will give us the latest at 6
Those are your five biggies for the day. Here are a few others that are brewing and have the Internet buzzing:
Cool cat: Who let the dog out? We finally have an answer for Baha Men. This determined feline did.
[youtube=http://www.youtube.com/watch?v=_2oH9dGr1sE&feature=youtu.be]
Rock your world: A marching band's tribute to Michael Jackson is awesome enough. Throw in the Ohio State band moonwalking to its rendition of the iconic singer's music, and you have a winner.
[youtube=http://www.youtube.com/watch?v=XanuRW23nMw]
Topless video bomb: College kids do strange things on game day. They hold crazy signs. They drink beer. They talk funny. They also climb on their friends' shoulders, dance funny and try to appear on TV.  This shirtless Clemson fan succeeded. Yeah, that'll do it.
[youtube=http://www.youtube.com/watch?v=KzJVE2UkiDQ]
The beat will go on: About 101 years later, the iconic violin played as the "Titanic" went down has sold for $1.7 million.  As the ship capsized, the bandleader was strumming "Nearer, My God, to Thee" to calm down passengers.  His body was reportedly pulled out of the water with the violin strapped to his back.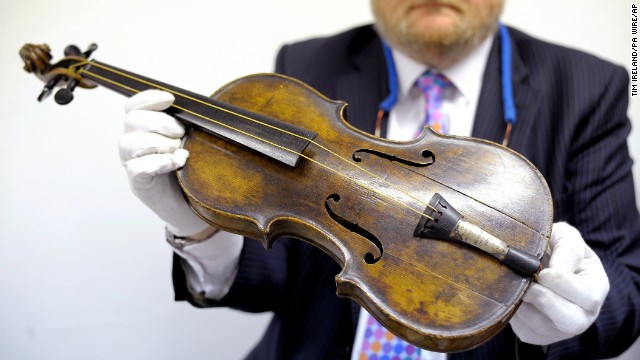 There you go. All you need to know to get an early start to your morning.
Be sure to tune in to "New Day" from 6 to 9 a.m. ET. Join us at NewDayCNN.com and go and have a GREAT NEW DAY!