Libya's prime minister is kidnapped and released under strange circumstances, we may be spared the debt ceiling debacle, and Kendrick Johnson would have turned 18 today.
It's Thursday, and here are the "5 Things to Know for Your New Day."
Every weekday morning around 6, we'll hit the top five stories of the day, clue you in on a few other buzzy items, and let you know about some of the must-watch stories coming up on CNN's morning show, "New Day."
1. GOVERNMENT SHUTDOWN
Light at the end of the tunnel vision: The government's still partially shut down. House Republicans say they aren't budging from that. But it looks like we could be spared the debt ceiling debacle. Late last night, GOP sources told us that lawmakers are preparing a proposal to temporarily raise it. And yesterday, President Obama said he would accept a short-term deal. The two sides meet today. We're keeping our fingers crossed.
There's another bit of good news: The shutdown has meant the Defense Department can't pay benefits to families of fallen troops. Yesterday, it struck a deal with the Fisher House Foundation to pick up the tab for now. The private charity will dole out the money. The Pentagon will pay it back when the shutdown ends.

Barbara Starr joins us at 6 from the Pentagon. Republican Rep. Michele Bachmann of Minnesota is on at 8.
2. SHUTDOWN IMPACT
Furlough can you go: Yesterday we told you about the bizarre side effects of the shutdown, but the examples keep piling up:
Three children from the Spirit Lake Tribe will not reconcile with their mom this week because the Bureau of Indian Affairs social worker is on furlough, according to this report. The government paid $47,000 for a mechanical bull for the Utah National Guard. And just days before the shutdown, the State Department awarded a contract to a  glass designer to make stemware for U.S. foreign embassies. The cost? Up to $5 million!
But wait, there's more!
Two women were slapped with a $275 ticket for hiking in the Red Rock Canyon National Conservation Area near Las Vegas. They wonder why the government is paying rangers to keep people out, instead of paying them to let people in:
And since the park service won't cut the grass in front of the Lincoln Memorial, this South Carolina man decided to do it for them:
Brianna Keilar is live throughout the morning to bring us up to date on the continuing impact.
3. SOUTH DAKOTA BLIZZARD
Left in the cold: It's like a scene from a scriptural parable: Dark carcasses of cows and steers lie motionless in silent clusters across swaths of South Dakota. An early blizzard this week killed as many as 20,000 head of cattle. But ranchers say they're the real victims. This year's federal farm bill got hung up in Congress before the shutdown. There's no money to help the ranchers, and the governor's asking for donations.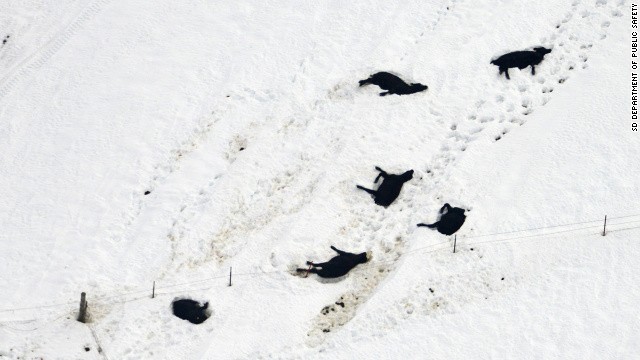 4. LIBYA KIDNAPPING
Dizzying developments: The prime minister of Libya was kidnapped this morning – or was he? His office says absolutely. But the gunmen who plucked him from a Tripoli hotel say they merely "escorted" him away because he's been charged with corruption. The justice ministry says there's no warrant for his arrest. But the interior ministry says the militias work for them. Hours later, he was released, unharmed. Confused? So are officials on the ground.
Nic Robertson will be live from Tripoli to make sense of this complicated situation.
5. GYM MAT DEATH
Outrage upon outrage: Kendrick Johnson's suspicious death at 17 was awful enough for his parents. But imagine how they felt when they discovered that every organ from the teen's body, from the pelvis to the skull, had been removed - and his body stuffed with newspaper and department store circulars. The explanation for that – like everything else in this case – defies logic for the anguished parents. The parents will talk to the media this morning.
BONUS BIGGIE!! Give a little love, have a little hope: On the show this morning, Anderson Cooper will reveal 10 everyday people who make this world a little better. These 10 CNN Heroes were all nominated by our worldwide audience. Starting today, you'll be able to vote for your favorite to be CNN Hero of the Year. All of them are doing incredible things in their communities. And being able to shine a spotlight on them is one of the reasons we find our jobs so rewarding. Read about their inspiring work here.
Those are your five biggies for the day. Here are a few others that are brewing and have the Internet buzzing.
- Oops, Awkward!!: Azerbaijan has released the results from its big presidential election. Only hitch? It did so before voting even started. It's kind of hard to explain your way out of this one, President Ilham Aliyev. The government is blaming the app's developer, saying the 2008 election results were accidentally sent out as part of a test. Hmm. That explanation might have worked except it lists candidates for this election, not the one five years ago.
- Flush with excitement: There are people who line their entire bathrooms with gold. Surely, they don't want an ordinary roll of toilet paper hanging in there. For them, an Australian who calls himself "toilet paper man" has designed a 22-carat gold roll. Interested? It's yours for a cool $1 million. He'll even deliver it in person with champagne in hand.

- This is how DC lawmakers are behaving: Like a bull terrier and a crab having a stare down.
- This is how DC lawmakers should behave: Like a group of ants working together to move a giant nacho chip.
http://youtu.be/5Z2sUMcix6c
- And finally, your Thursday morning 'aww': This birthday wish from a 2-year-old to her mom is melt-your-heart cute.
There you go. All you need to know to get an early start to your morning.
Be sure to tune in to "New Day" from 6 to 9 a.m. ET. Join us at NewDayCNN.com and go and have a GREAT NEW DAY!