Welcome to day three of the government shutdown; Michael Jackson's family has lost a lawsuit over his death, and people are still talking about the biker beating video

It's Thursday, and here are the "5 Things to Know for Your New Day."
Every weekday morning around 6, we'll hit the top five stories of the day, clue you in on a few other buzzy items, and let you know about some of the must-watch stories coming up on CNN's morning show, "New Day."
1. SHUTDOWN
Elephants biting their nails:  A small but growing group of House Republicans is increasingly worried about the fallout from the government shutdown and say it's time for Speaker John Boehner to allow a simple vote on a spending bill.  Defunding Obamacare can wait for now, they say.  "I'm trying to be optimistic but at the same time I have a really, really tough time when people are out of work and they can't pay their bills," Rep. Michael Grimm of New York told reporters yesterday.  "Though it might be a political loss for us ... this is an untenable situation."  Rep. Scott Rigell, whose Virginia district is home to a significant number of military members and civilian contractors, was one of the first to publicly break away.  He took to Twitter to say that it is time for government to reopen.
Brianna Keilar and Rene Marsh report on the deadlock that has Washington shut down at 6, 7 and 8. John King checks in on the political nitty-gritty at 6, and Rep. Chris Van Hollen of Maryland gives us the Democrat's take on what's going on the House at 7. His Republican colleague Steve King joins us at 8. Elizabeth Cohen reports on how the shutdown is affecting healthcare, and CDC chief Dr. Thomas Frieden talks about what furloughs have done to his efforts to protect Americans from disease.
2. TENNESSEE BUS CRASH
No lack of prayers: A tire on a bus blew out yesterday, and it caused a wreck that killed eight people. That's what police think. The bus was carrying 18 people from the same church in North Carolina. Most of them were senior citizens. They had gone to a nearby revival service. When the tire blew, the driver lost control. His bus crossed the median on I-40 in east Tennessee and hit an SUV and a tractor-trailer. The wreckage made the accident site look like a bomb had gone off there. The truck driver was killed. One person died in the SUV, and six people on the bus died. Their church is praying for them, and so are many others.
3. MICHAEL JACKSON TRIAL
This is it: Michael Jackson's family tried to get  a concert promoter to pay up a billion or two. But yesterday a jury said no. The family said it was partly AEG's fault that Jackson died. After all, AEG did hire the doctor who injected him with propofol. That's an anesthetic used to put people under for surgery. Conrad Murray was giving it to the King of Pop to help him sleep, but he gave him an overdose in June 2009, and it killed him. After 13 hours of thinking it over, the jurors said it was Murray's fault alone, and not the company's. So, no billions, yet. But Jackson's family is not happy with the verdict. Their lawyers are talking about appealing it. It could take years before this is over.
https://twitter.com/K4os_Theory/status/385598570247634945
Miguel Marquez joins us live with his report at 6 and 7. Tom Mesereau, an attorney, who defended Jackson in a molestation trial talks to us at 7.
4. BIKER BEATING
Whose side are you on?: That video of the dust-up between the motorcycle gang and the SUV still has people talking and taking sides. Some bikers and their friends held a vigil at the hospital yesterday, where Edwin Mieses is. He's the biker who was run over and is in a coma. They say he's the real victim, and they don't want the bikers to be seen as a bunch of bad apples. They pointed the finger at the SUV driver, who drove over him to get away from the gang. One of them said: "I knew that car seemed reckless from the beginning." The bikers say they told him to slow down, but that he wouldn't. Police released a biker from the group, who turned himself in. They didn't charge him and say he may have been trying to help the SUV driver, when other bikers were slashing his tires, or smashing his windows or giving him a beating. Sympathies on social media still run high with the SUV driver. A lot of people don't like the bikers and some have passed around videos of motorcycle riders breaking the law to back up their anger at them.
Pamela Brown reports live at 6 and 7 on the charges dropped against the man who turned himself in.
5. HISTORIC FINDS
No bones about it: Backhoes dug up some cool historic and prehistoric stuff this week. First in Canada: It was like a scene out of a Flinstones' comic. A backhoe dropped its shovel right on top of a dinosaur's tail. It laid bare an extremely rare find, a fossil over 10 feet long of a dinosaur tail. Scientists are carefully taking it out of the ground. They hope to find a whole 35-foot dinosaur inside the rock at a construction site. Now to London: The Romans were there centuries ago. That's no secret, but 20 of their skulls turned up when shovels broke ground for a subway line. What's weird is finding that many together in one space and just the skulls. The archaeologists think winter storms way back when washed them all into one spot.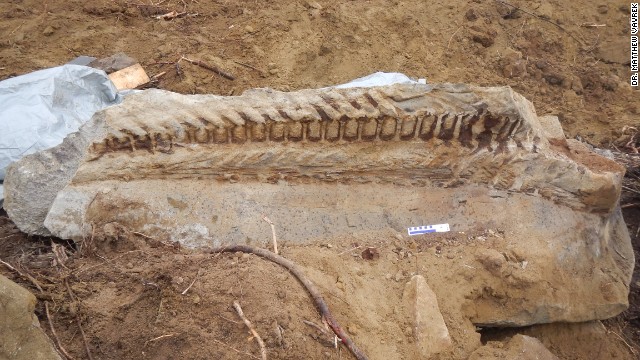 There you go. All you need to know to get an early start to your morning.
Be sure to tune in to "New Day" from 6 to 9 a.m. ET. Join us at NewDayCNN.com and go and have a GREAT NEW DAY!