Technology does what House Republicans couldn't, a vicious attack spurs a debate, and the government shutdown enters its second day.

It's Wednesday and here are the "5 Things to Know for Your New Day."
Every weekday morning around 6, we'll hit the top five stories of the day, clue you in on a few other buzzy items, and let you know about some of the must-watch stories coming up on CNN's morning show, "New Day."
1. SHUTDOWN STANDOFF
This insane leap into the abyss: When Genevieve Jeuck and Michael Sallemi came up with their romantic little idea, it seemed perfect. They'd get married in early October on the rim of the Grand Canyon, just as the cool autumn winds were starting to blow. With family and friends standing by, they'd pledge their love to each other. Cue the rainbow, and the cry of the circling eagle. Then their uncle showed up. Uncle Sam, that is. And everything went to hell. The government shutdown put the canyon off limits, and their plans on ice. Today's the second full day of this mess - and our bickering lawmakers are still talking past each other without actually talking to each other.
Yesterday, within a short walk of both the Capitol and the White House, one scene captivated what's clearly maddening about the situation: A group of veterans, many in wheelchairs, went to see the World War II Memorial, only to find the open-air site fenced off. (After some consternation, the fences were pushed aside).
So, what happens next? Last night, the House tried - but failed - to approve piecemeal funding for three specific programs: the District of Columbia, veterans affairs and national parks. Today, they'll try again. But Democrats in the Senate have already said that's a no-go. Hear that sound? That's the sound of our frustration echoing - from cities, to the countryside, to the valleys of all those empty national parks.
All morning long, we'll hear from Brianna Keilar about the standoff, and from Rene Marsh about the fallout. John King joins us at 6; and Democratic Whip Rep. Steny Hoyer at 8. And don't miss Chris Cuomo's chat with fourth graders who sound off.
2. OBAMACARE
Oh, the irony:  Technology did what House Republicans couldn't - Slow down Obamacare. The doors flung open yesterday morning on the new marketplace where Americans could sign up for health insurance. But within minutes, THUD! The websites, both state and federal ones were overwhelmed by heavy traffic, and kept returning an error message.
Of course, some Republicans, like House Speaker John Boehner, seized on the glitch as proof that the law's "not ready for prime time." Not to be outdone, the president took a hipper approach. He compared it to Apple's release of iOS7:
"Consider that just a couple of weeks ago, Apple rolled out a new mobile operating system, and within days, they found a glitch, so they fixed it. I don't remember anybody suggesting Apple should stop selling iPhones or iPads or threatening to shut down the company if they didn't."
This morning, Dr. Sanjay Gupta walks us through Obamacare's rocky start
3. COLORADO ROCK SLIDE
Buried. Alive: Her father's gone. Her mother too. Her sister and her two cousins as well. All of them buried under a mountain of rocks that came crashing down at a popular mountain trail outside Denver. But 13-year-old Gracie Johnson survived. She was pulled out from under the rubble by a rescuer who saw a hand sticking out. She's here today, Gracie said later, because her dad jumped on top of her to protect her right as the rocks were coming down.
The horrifying deaths have shaken the 3,000 residents of Buena Vista. But no one was surprised at what Gracie's dad, Dwyane Johnson, did. That's the kind of thing people here expected from the electrician and part-time assistant high school football coach. "He would have done the same for any of our children, absolutely," a family friend said. "We may never get over this." Gracie will never, either. But she'll grow up knowing her dad was a hero.
https://twitter.com/lilli_tarver/status/385064462299836416
At 7, Kyung Lah joins us live with more on this heart-wrenching story
4. IRAN DIPLOMACY
Caveat emptor: That was the message from Israeli prime minister to the world about Iran yesterday. We knew there'd be fireworks when Benjamin Netanyahu spoke at the U.N. General Assembly, and boy, did he deliver! He had none of the eye-catching props from last year, but he came out swinging with a bucketful of stinging one-liners against Iranian President Hassan Rouhani and his recent charm offensive.
There was this: "Rouhani is a wolf in sheep's clothing. A wolf who thinks he can pull the wool over the eyes of the international community."
And this: "Rouhani thinks he can have his yellowcake and eat it too."
And finally this (intended as much for Washington as Tehran): "Israel will not allow Iran to get nuclear weapons. If Israel is forced to stand alone, Israel will stand alone."
[youtube=http://www.youtube.com/watch?v=CCDcdnEjJHA&feature=share
]
Bibi has his reasons to be wary. Iran is Israel's arch-rival. And Israel's close ally, the U.S., seems to have certainly changed its stance toward Iran in recent days. There was that historic phone call last week between Rouhani and President Obama. Then, the CNN poll yesterday that found three quarters of Americans favor direct diplomatic negotiations with Iran. And yesterday, an exchange between Twitter founder, Jack Dorsey, and prolific tweeter, Rouhani. Dorsey asked if Iranians can read Rouhani's tweets. He replied he's committed to opening up the web to them.
At 6, Reza Sayah will break down the complex dynamics at play in the evolving U.S.-Iran-relationship and what it means for Israel.
5. BIKER BEATING
The Rashomon effect: An SUV driver hits a biker on Manhattan's West Side, and sets off a violent chain of events. And now, a debate is raging over who's the real victim in this disturbing attack. Cops say the SUV driver broke the biker's leg. In response, fellow bikers –part of a gang called "Hollywood Stuntz" - swarmed the SUV, hitting it and spiking its tires, police said. The driver pulled away, hitting three more bikers - one of whom is now paralyzed and in a coma. The bikers then cornered the SUV, dragged the man out and beat him, police say. The SUV driver's not yet been charged in the incident. But police have arrested two of the bikers.
So, was the driver justified in pulling away to try and protect his wife and 2-year-old daughter inside? What about the comatose biker? His family say he's a victim too. "The whole matter obviously is still being investigated," says NYPD Commissioner Ray Kelly.
At 6 and 8, Susan Candiotti will bring us the latest in the case
Those are your five biggies for the day. Here are a few others that are brewing and have the Internet buzzing.
- Six of one ...: Which do you prefer – Obamacare or the Affordable Care Act? It's obviously the same thing. But clearly, someone forgot to tell these people.
[hulu id=xvg7w3rpe1wei6elkvnxva width=412]
- When a skeleton craves a burger: What's better than pranking fast food clerks into thinking a car is driving itself? A skeleton in a drive through.
[youtube=http://youtu.be/FXgokniKNE4]
- Oh no, he didnt!: The Biebster, the most beloved/detested teen on the planet, has apparently broken one of the most sacred unspoken rules of travel - don't use your bodyguards to carry you up the Great Wall of China.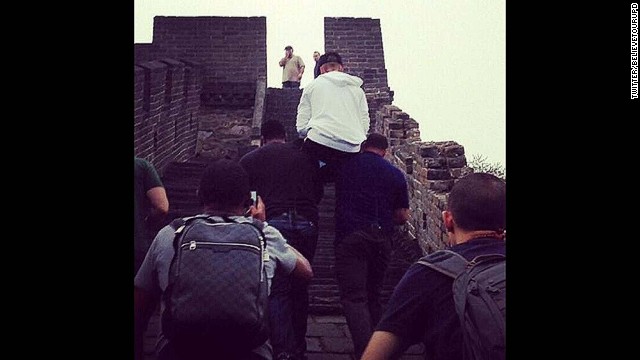 - Every pop song ever written: All those tunes you love to hum are all Pachelbel's Canon in D(isguise). Comedian Rob Paravonian proves it.
[youtube=http://youtu.be/JdxkVQy7QLM]
- And then there's this: Happy Wednesday, everyone!
There you go. All you need to know to get an early start to your morning.
Be sure to tune in to "New Day" from 6 to 9 a.m. ET. Join us at NewDayCNN.com and go and have a GREAT NEW DAY!