In today's edition of the "Good Stuff" – bullying and a brother's love.
A mom asked her 8-year-olds Ryan and Amber to write their letters to Santa early this year to get out ahead of any exorbitant requests. What her son Ryan asked for however, really shocked her. He wrote:
"Dear Santa – I wanted a remote control car and helicopter, but I don't want that anymore. Kids at school are still picking on Amber and it's not fair."
He adds: "I prayed that they will stop by, but God is busy and needs your help."
Mom, Karen, was heart-broken by the letter. She knew that Amber might get teased a little bit, but never knew the full extent of it until Ryan's letter. Karen shared the letter with her friend for advice, and one of them shared it with us at CNN through iReport.
Ryan had just one more request of Santa. He writes:
"Can you ask Big Time Rush to come to Amber's Birthday Party, it will make her so happy."
Big Time Rush is a boy band for kids made popular by the Nickelodeon TV series. We're not Santa, but we were able to get one of the star's of the show – Stephen Glickman – to call in.
WATCH VIDEO ABOVE
If you have #GoodStuff news, let us know! Submit your stories just like Amber's mom's friend to our new "Good Stuff" iReport page: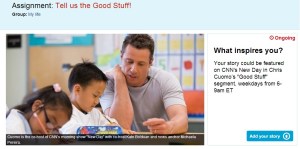 Or you can always leave a comment, post on Facebook, or tweet to @ChrisCuomo & @NewDay using #NewDay.