The U.S. is talking peace and arming rebels, Putin takes a dig at Obama, and strippers win in New York City.
It's Thursday and here are the "5 Things to Know for Your New Day."
Every weekday morning around 6, we'll hit the top five stories of the day, clue you in on a few other buzzy items, and let you know about some of the must-watch stories coming up on CNN's morning show, "New Day."
1. SYRIA CIVIL WAR
You say you want a resolution: Well, you know, we all want to change the world. The question is: Can Secretary of State John Kerry and his Russian counterpart come to an agreement when they meet in Geneva, beginning today? The U.S. isn't leaving anything to chance, though. While it pursues diplomacy, it's also started arming the rebels. (The rebels, however, say they haven't seen the weapons yet).
Meanwhile, a Vladimir Putin-penned piece in The New York Times has at least one White House official saying it's an indication the Russian president is "now fully invested in Syria's chemical disarmament." And a U.N. report says both sides - the regime and the rebels - have committed war crimes in Syria's bloody civil war.
Too much going on? No worries. We'll make it easy for you. Here are the five things to pay attention to today.
Brianna Keilar will be live at 6, 7, and 8 to give us the latest on the U.S. involvement with Syria.
2. PUTIN PIECE
From Russia, with(out) love: He could have just said why the U.S. shouldn't bomb Syria. Did he really have to lay the smackdown? In his New York Times opinion piece, Russian President Vladimir Putin says the U.S. isn't the exceptional country Obama claims it to be.
"We are all different, but when we ask for the Lord's blessings, we must not forget that God created us equal."
Not exceptional? Red-blooded Americans took exception. Democratic Sen. Robert Menendez said the piece made him almost want to throw up. And the Internet responded with variations on "Oh no, he didn't!"
We'll have a team of correspondents live at 6, 7, and 8 to tell us what Putin's plea for peace really means.
3. KALI HARDIG
I'm a survivor, I'm not goin' give up: By nearly all accounts, 12-year-old Kali Hardig shouldn't be alive. During a swim at a water park in July, she contracted a rare infection caused by a brain-eating amoeba. In the last 50 years, only two people have survived. But Kali's a fighter, and against all odds, she made it. After two months in the hospital, part of which she spent in a coma, she went home yesterday. And she'll reach another milestone on Monday: She'll be back in school. So that's miracle girl: 1; nasty amoeba: 0. Cue Destiny's Child, y'all.
We'll have more on Kali Hardig's amazing story and an exclusive interview with Kali and her mother at 8:45 a.m.
4. GUN CONTROL
Ready, aim, fired: Who knew you could lose your job for wanting tighter gun control? That's what happened to two Colorado state senators who wanted universal background checks and a limit on magazines. They got the boot yesterday in an NRA-funded recall election.
Missourians saw the tide turn the other way. Lawmakers there tried to pass legislation that would say federal gun laws won't apply in their state. It passed the House, but fell short by one vote in the Senate yesterday. Had it passed, the law would have let Missourians own machine guns. That's banned under federal law. And if the feds came to take the guns away? The would-be law would OK the agents' arrests!
5 . 9/11 PROMOTIONS
What were you thinking?: Sure, we all know businesses like to use holidays as an excuse to tout special deals. (Because when you think President's Day, you think mattress sales … right?). But trying to profit off 9/11? Oh, come ON! One Wisconsin golf course offered "9 holes with cart for only $9.11 per person or 18 holes with cart for only $19.11! 9/11/13 Only!"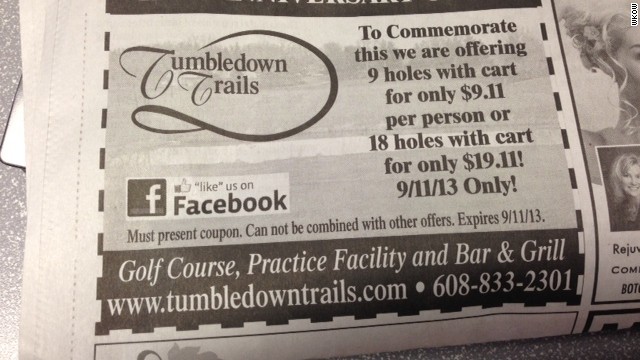 A Marriott hotel got a Twitter-lashing when it offered "complimentary coffee and mini muffins from 8:45 – 9:15 am" – roughly the same times when two planes crashed into the World Trade Center towers.
And AT&T's tweet showing a smartphone and a 9/11 memorial didn't last long online before Twitter users replied with expletives or threatened to switch carriers.
Hey geniuses, next time you come up with another bonehead idea, pause and pull out this flow chart:
Those are your five biggies for the day. Here are a few others that are brewing and have the Internet buzzing.
- Call me maybe?: Worried about withdrawal when Breaking Bad ends this season? AMC's got your back with a new series called "Better Caul Saul," featuring the show's shady criminal lawyer.
https://twitter.com/FutileRage/status/378069982732492800
- Minimum wage for minimum clothes: A judge has ruled that strippers at a Manhattan club are hourly employees – and therefore deserve to be paid minimum wage. Dancers had to pay the club a nightly "house fee," and at least $20 of their tips. What, no perks for twerks?

- I want my baby back, baby back, baby (bear) back: Robert Baysinger can't bear to go a day without his girl, Savannah. The problem is, Savannah's a black bear. He rescued her, he raised her, he clad her in diapers. And then the Man came and took her away.

- Sick free throw: They look simple, but free throws aren't always easy (two words: Shaquille O'Neal). This show-off decided to add a backflip, too.
[youtube="http://www.youtube.com/watch?v=D_boGHOIUjw"%5D
There you go. All you need to know to get an early start to your morning.
Be sure to tune in to "New Day," from 6 to 9 a.m. ET, join us at NewDayCNN.com and go and have a GREAT NEW DAY!