The battle lines over Syria are being drawn figuratively and literally, a court has a unique ruling on texting TO the driver, and you may have to wait a while longer to get a burger today.
It's Thursday, and here are "5 Things to Know for Your New Day."
Every weekday morning around 6, we'll hit the top five stories of the day, clue you in on a few other buzzy items, and let you know about some of the must-watch stories coming up on CNN's new morning show, "New Day."
1. SYRIA CIVIL WAR
The lines are being drawn: On one side Syria, China, Iran, Russia. "The West handles the Islamic world the way a monkey handles a grenade," the Russian deputy prime minister tweeted. On the other side, France, Germany, Great Britain, the United States. "We do not believe that, given the delivery systems, using rockets, that the opposition could have carried out these attacks. We have concluded that the Syrian government in fact carried these out," President Barack Obama said of the chemical weapons attacks last week. In the middle, the United Nations, which wants a diplomatic solution - but there seems to be little chance of that. Still, Obama told PBS he's not made a final decision to use force. And in an early morning development, Great Britain said it was going to release some of the evidence about the chemical weapons attack.
Sen. Tim Kaine of Virginia will join us at 7. Barbara Starr is live from the Pentagon and Frederik Pleitgen will be with us from Beirut.
2. MONTANA RAPE CASE
"It didn't come out correct:" The judge who sentenced a rapist to one month (with 179 months suspended) tells CNN affiliate KTVQ that he shouldn't have said the 14-year-old victim "seemed older than her chronological age" and was "as much in control of the situation." G. Todd Baugh tells KTVQ that he's not exactly sure what he was trying to say but it just didn't come out right. The mother of the victim – who killed herself – says she doesn't understand how the rapist could confess and basically get to walk away. Today, when Baugh gets to work, he may want to use a side entrance; protestors plan to stand outside the Yellowstone County courthouse in Billings and call for his resignation.
Auliea Hanlon, the mother of the victim, will be our guest at 7.
3. TEXTING WHILE DRIVING
It takes two to text: We've all heard the dictum: Don't text and drive. Now, a New Jersey state appeals court has an addendum: Don't text a driver - or you could be held liable if he causes a crash.
At 6, HLN legal analyst Joey Jackson will explain what this means for people who want to send a text.
4. FAST FOOD WORKERS STRIKE
Time to pack a lunch: Gonna grab a quick burger for lunch today? It might take longer than usual. Many fast food workers are feeling under the weather, and need the day off. As it just so happens, there are also a bunch of protests demanding higher pay for fast food employees going on around the country. For the first time, workers in some Southern states will join in. It seems these protests – which call for a $15-an-hour starting wage – are gathering momentum.
"Your Money" host Christine Romans will have more on the planned strikes this morning.
5. CALIFORNIA WILDFIRE
Dad, can you pick me and the llamas up?: David Hermanson and his friends were being one with nature when they saw what they thought was a group of thunderheads rolling in through the California countryside. They weren't rain clouds, though. It was smoke, from a growing wildfire. The flames were never a problem for him, his friends and their six llamas, he says. It was the blinding and choking smoke. It made it hard for everyone to breathe. And the flames did bite – the fire burnt their truck to a crisp.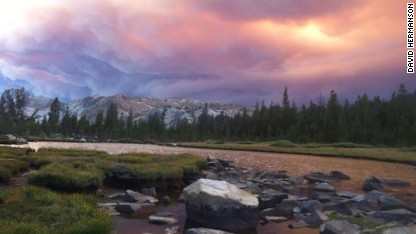 The Rim Fire has now consumed nearly 200,000 acres but the percentage of acres contained has grown to 30%.
Those are your five biggies for the day. Here are a couple of others that are brewing and have the Internet buzzing.
–"They are running the streets:" Tens of thousands of dogs. We repeat, tens of thousands. Incredibly, that's how many homeless dogs there are in Detroit. And folks there say this has been going on for years, not just since the city's bankruptcy problems.
- Don't drink the water: The people of Colcord, Oklahoma, might need something a little stronger than Brita filters to remove the disgusting stuff from their drinking water. Blood worms - small, red insect larvae - have been appearing in water glasses and filters in the rural town. Schools are closed and town officials are trying to figure out where the little buggers are coming from and how to get rid of them.
- And now, more about twerking: Hey, wouldn't it be better if your twerking news were brought to you by Morgan "the Voice of God" Freeman?
- Jurassic office park: You're headed to work when you are stunned to see people scurrying and screaming. What could it be? Well, it might be a T-Rex!! Ok, it's not real, it's just a Japanese hidden camera show. Looks like someone probably needs new pants.
http://www.youtube.com/watch?v=zZGNk8pUj4Y
–Some people need to get out more: As they say on the Internet, this short film hits you "right in the feels." There will be tears for Desmondo Ray, aged 33 and 3/4, who is sad and sweet, and looking for love. Or there will just be three minutes of bewilderment.
There you go. All you need to know to get an early start to your morning.
Be sure to tune in to "New Day," from 6 to 9 a.m. ET, join us at NewDayCNN.com and go and have a GREAT NEW DAY!