If there's a Renaissance man in Hollywood—Hugh Jackman is him. There are few people comfortable in the roll of song and dance man as they are as an action hero, but Jackman may be the best of them.
And Jackman pulls his claws back out to prove it in "The Wolverine."
It's a familiar role to the Tony winner and Oscar nominee, who has played the Marvel superhero six times.
But for him, it doesn't get old. Just more challenging. And he says he's enjoying it more than ever.
"I don't understand why you would want to go and do it if you don't want to be better in every way, acting wise, the character, the story," Jackman says about returning to play the super mutant.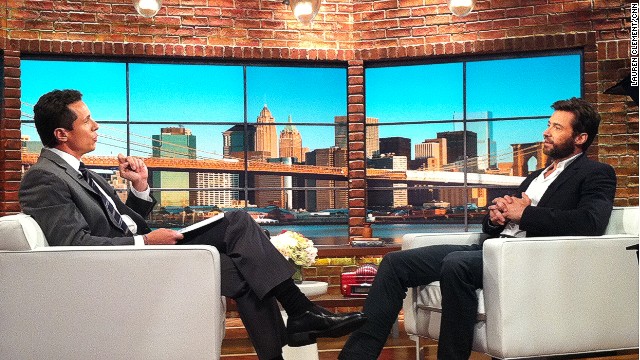 "And the physicality is such a big part of it. I can't just go, 'Let's do what we did last time.' That's not in my DNA."
"New Day' anchor Chris Cuomo asks Jackman what he does to tap into the darkness required for this role.
"I do little triggers," he explains.
"First of all it's important to understand that everything comes from some kind of pain or some kind of trauma. I think that's what makes X-Men and this character enduring, is that he's not just an angry with claws. He's actually conflicted and complex. So as an actor I'm looking for…what makes him dark, what kind of pain he has had to endure over so many years, and that's where I base the character."
To feel like the Wolverine, Jackman says he takes a cold shower first thing in the morning.
"That immediately just puts me in a bad mood. Really bad mood," Jackman says. "This guy lives in a bad mood."
Jackman says the character of the Wolverine also requires a great deal of physical dedication, and more from him than it did in the past.
"I want him to look frightening. I want him to look visceral," Jackman says. "He's got this battle of the animalistic side to him and the controlling side and that's where he lives, so the physicality has to show that."
--------------
For a moment, Jackman channels Wolverine to answer the following questions as the superhero:
Q. Would you rather have dinner with Storm or Rogue?
A. Hmm, I'm gonna get in trouble. I'll say Storm…You do whatever you can with Halle Berry.
Q. Beer with Gambit, Nightcrawler or Cyclops?
A. Gambit
Q. Wolverine's favorite meal?
A. Hah…That's a good question. It's just alcohol…and maybe ribs.