Welcome to the Independence Day edition of "5 Things to Know for Your New Day."
Every weekday morning around 6, we'll hit the top five stories of the day, clue you in on a few other buzzy items, and let you know about some of the must-watch stories coming up on CNN's new morning show, "New Day."
1. EGYPT COUP
Revolution 2.0 aka Do-over: It's coup, clashes and chaos in the world's most populous Arab nation. The military wasn't playing when it gave Morsy an ultimatum. When he didn't budge, they moved in. Morsy's defiant, saying he's still in charge – but also reportedly under house arrest.
Obama say's "he's deeply concerned," but won't call it a 'coup.' There's a reason for that. Say 'coup,' and by law, Washington can no longer send billions to Egypt's military.
Fareed Zakaria joins us at 7 and Christiane Amanpour at 8 to discuss what's next. And over at cnn.com, we have all angles covered – A profile of the mysterious new president, a Q&A of what we know so far, and a live blog with the Day 2 developments.
2. AARON HERNANDEZ CASE
Home is where the ammo is: Turns out the former Patriots player had a secret pad that only a few people knew about. When a friend tipped off the cops, they found ammo and a white hoodie. The bullets were the same caliber as the rounds used to kill Odin Lloyd. And the sweatshirt matches what he was wearing that day. Hernandez is maintaining his innocence. His fans aren't shy about their feelings either.
John Berman joins us at 7 with the latest details
3. HOLIDAY WEATHER
Make some noiiiiize, Mother Nature: If you live in the Southeast, it's gonna rain on your parade today. Sorry for the bad news. But maybe that's better than the Southwest where it'll be so hot you won't need a grill to cook up the burgers and dogs, just a sidewalk. In Atlanta, where 60,000 are entered in the Peachtree Road Race, it's been raining for hours and the heavy stuff hasn't even started yet. Let the lame ark jokes commence!
Meteorologist Chad Myers will let you know where it's going to rain—and how much - on this holiday
4. FAST FOOD WARS
I'll take a number 36 combo: When we were kids, the menu at McDonald's was hamburger, fries, drink. None of these fancy, shmancy sandwiches like Habanero Ranch Quarter Pounders. But these days there are tons of fast food chains and many of them are rolling out specials for the summer. Pretzel bacon cheeseburger, anyone?
Chris, Kate and Micheala will try Wendy's new burger in the 8 o'clock hour
5. LADY LIBERTY REOPENS
Give me your ... tourists: America's favorite 305-foot tall woman is set to have company over once again, just in time for her favorite holiday. The Statue of Liberty reopens today after eight months of repair work to the island on which she proudly welcomes visitors from other nations.
Perhaps she'll be able to see the hot-dog eating contest on Coney Island, where food daredevil Joey Chestnut will attempt to win his seventh "world" championship by eating an entire cow on a bun. Wait, that's not right. He'll eat like 68 hot dogs, then not have another meal until August.
[youtube="http://www.youtube.com/watch?v=p2y7LX4cHVI"]
Pamela Brown is on Liberty Island where an eight-month wait for tourists ends today.
Those are your five biggies for the day. Here are a couple of others that are brewing and have the Internet buzzing.
- Thanks for the X-Y position indicator: Yeah, mouse was a better name for Doug Engelbart's creation. The man responsible for the computer mouse died yesterday at the age of 88. He is survived by a wife, four children and billions of people banging a plastic ball attached to a wire on their desk.
- They really wanted you to 'like' them: Your tax dollars at work, folks. The U.S. State Department spent $630,000 in a year to get more fans for four of its Facebook pages. Some folks are outraged, but hey, it's not like they were posting pictures of what they were eating for dinner or photos of their car thermometers. They weren't, were they?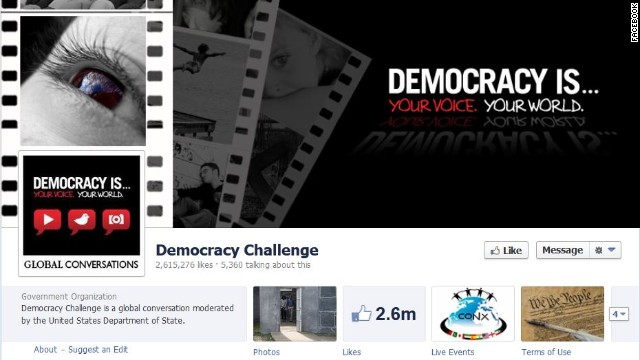 - Where a kid can be an kid unwitting accomplice: So you're 9, you're at Chuck E. Cheese's, having a ball at a birthday party. Your aunt says, 'Bring me that purse.' You don't worry that it might not be hers. That's what the cops in Florida say one woman and her friend did to a little boy last week. Now the police are looking for the two young ladies who made their surveillance film debut with the purse theft before they allegedly headed off to a convenience store and are now "currently evading capture."
- It was a good look – in 1973: We all have that one shirt that we have had forever. Now Dale Irby of Texas thought it would be fun to wear the same dress shirt and sweater vest for school pictures – every year. The former gym teacher kept wearing it each October for 40 years. Now that he's retired, we hope it's likewise for the attire.
- Those microphones? They're hot: If you live in a reality TV show house where there are cameras everywhere and they stream the happenings of the place on the Internet, it would behoove you to keep your racists and homophobic thoughts to yourself. It's just common sense, people. But clearly news to two contestants on CBS' 'Big Brother.' They got the boot from their day jobs – something they'll only find out when they get the boot from the house.
There you go. All you need to know to get an early start to your morning.
Be sure to tune in to "New Day," from 6 a.m. to 9 a.m. ET, join us at CNN.com/NewDay and go and have a GREAT NEW DAY