Congressional approval for a strike on Syria goes into phase two, Ariel Castro hangs himself and the N-word is not OK, even among blacks, a court says.
It's Wednesday and here are the "5 Things to Know for Your New Day."
Every weekday morning around 6, we'll hit the top five stories of the day, clue you in on a few other buzzy items, and let you know about some of the must-watch stories coming up on CNN's morning show, "New Day."
1. SYRIA STRIKE
Round 2: The White House's case for a military strike on Syria enters Round 2 today. Secretary of State John Kerry returns to the Hill, this time to be grilled by the House Foreign Affairs Committee. Yesterday, he appeared before the Senate Foreign Affairs Committee to sway skeptical lawmakers. Some 43 lawmakers in the House and the Senate now say they can get behind President Barack Obama. But about two-thirds remain undecided or haven't announced how they plan to vote. So, there's been progress. But it didn't come without some major verbal fireworks. Over at CNN.com, we have a point-counterpoint of the assertions made and objections raised.
Meanwhile, Syria's U.N. ambassador talked to CNN's Christiane Amanpour, saying Syria was a "peaceful nation" and "we don't pretend to be equally strong enough to confront the United States military." It was a pretty combative interview and ended with Amanpour asking him, "How do you sleep at night, Mr. Ja'afari, defending a regime, a government, that has caused so much bloodshed?"
Obama's in Europe this morning. Brianna Keilar will be live from Sweden at 6, 7 and 8. Jim Sciutto in Washington covers the congressional vote at 6 and 7. Gloria Borger will give her analysis from the capital at 8. Democratic Sen. Robert Menendez will share the take away from the Senate at 7. John King reports from New York City at 8, and CNN's Fareed Zakaria will tell us how he sees the situation at 8.
2. ARIEL CASTRO
Now the 1,000 years begins: Seems like the prospect of life plus 1,000 years behind bars was too much to bear for Ariel Castro. He was found hanged in his Ohio prison cell last night. He's the man – some would say "monster" – who lured three girls in his car with the promise of a ride, kidnapped them and kept them captive in his home for 10 years. He raped them, tortured them and impregnated at least one. Then, when he faced the possibility of a death sentence, he pleaded guilty to 937 counts. And even then, he blamed the victims. There was "harmony in the happy household," he said. At his sentencing, one of the victims, Michelle Knight, said "Your hell is just beginning." If there's an afterlife, she may be right.
https://twitter.com/Sean_Hiem/status/375127084722831360

We'll update you live as the news moves forward.
3. N-WORD TRIAL
But words can never hurt me: You know that old nursery rhyme? Sticks and stones and all that? Well, a non-profit in East Harlem found out the hard way that words CAN hurt. To the tune of some $280,000! Brandi Johnson, a black woman, sued the non-profit STRIVE, saying her boss Rob Carmona threw the N-word around the office like it wasn't a big deal. The boss, who identifies himself as black Hispanic, said he didn't mean it. He meant it more in a Chris Rock-kind of way. The court said, riiiiight!
Don Lemon will join us at 7 with a report that may make you blush.
4. MONTANA RAPE
Oops, my bad: Remember the Montana judge who handed down the oh-so-very-heavy sentence of 1 entire month to a teacher who admitted raping a 14-year-old student? Well, yesterday, the judge, G. Todd Baugh, said he may have slightly misjudged it. Baugh says there's this legal hitch that requires a minimum two-year sentence for rape. Why the change of heart, Baugh? Could it be the outrage you caused? The mass demands for your resignation? On Friday, Stacey Dean Rambold, the guilty teacher, will be hauled before the court and sentenced again. The victim won't be around to see that. She sadly took her own life - at 16.
5. KENDRICK JOHNSON CASE
What really happened?: Expect to hear about this case a lot in the coming days. A teenager in south Georgia was found dead, rolled up in a wrestling mat in January. The sheriff's office and the GBI said the death was an accident; that Kendrick Johnson suffocated at the Lowndes County High School gym. But that didn't sit right with his family. So they had an independent autopsy done. The conclusion that CNN exclusively obtained? "Unexplained, non-accidental, blunt force trauma." Meaning, the 17-year-old boy's death was no accident. He was beaten to death. The family wants to know who did it, and why the authorities would say otherwise. They've sent the report to the Justice Department's civil rights division.
BONUS BIGGIE!! GROUND ZERO FLAG: There's this photo that was shot on September 11, 2001, of three firefighters raising the American flag over the rubble of the World Trade Center. It flashed around the world as a symbol of patriotism, of our resilience after that horrible attack. The flag became a legend. But then it disappeared. CNN set out to track down the original and the result is a fascinating documentary that airs tonight at 9.
Those are your five biggies for the day. Here are a couple of others that are brewing and have the Internet buzzing.
- Turning up the heat: "Fifty Shades of Grey" fans are hot - and not for the reason you might think. No sooner were the stars of the forthcoming film adaptation of the wildly successful erotic novel announced than the Internet roared its disapproval. 'No! No! No' cried fans when Charlie Hunnam and Dakota Johnson were cast.
- That's an awful lot of handbags!: Know what 700+ pounds of alligator looks like? You would, if you happened to be near Vicksburg, Mississippi, last weekend where two record-setting gators were killed. "We didn't realize how big it was, we just knew it was big," said hunter Dustin Bockman. He and his pals had to call for backup when they couldn't load the gator in their boat. Their 727-lb catch beat the state's previous record winner in the weight category — set just an hour earlier — of 723.5 pounds.

- A dinner to remember: Sometimes Ashley England has a tough time taking her 8-year-old special needs son out to restaurants because he'll scream and act out when frustrated. It's exactly what happened on Friday when the North Carolina family stopped at the Stag & Doe in China Grove. But instead of evil glares, a male customer paid for their meal and left this note: "God only gives special children to special people." England told CNN she just broke down crying.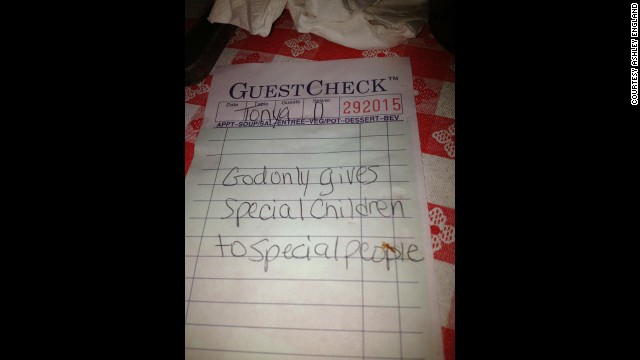 - Catattack!: He's a beloved mayor, who's held the top office in Talkeetna, Alaska, for 16 years. So imagine the town folks' shock when he was attacked. Brutally mauled. By a dog. Oh, did we mention, this mayor's a cat? Mayor Stubbs, a yellow tabby with more responsibility than your average cat, survived - but is in bad shape. A punctured lung. A fractured sternum. A 5-inch gash on his side. But he'll survive - with one less life on his tab.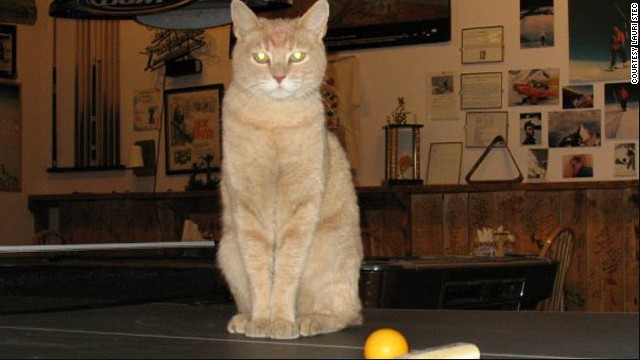 Nothing like it: Few things are as magical as the sounds of laughing babies. So when we found this clip of a baby giggling hysterically at a barking dog, we couldn't resist sharing. You know you need this for your hump day.
There you go. All you need to know to get an early start to your morning.
Be sure to tune in to "New Day," from 6 to 9 a.m. ET, join us at NewDayCNN.com and go and have a GREAT NEW DAY!